After weeks of anticipation, researchers have pried open the lid of a small, approximately 1,700-year-old coffin discovered last month in a field near Leicestershire, England. While more analysis will be necessary, a preliminary examination suggests the coffin was the final resting place for a little girl from a wealthy Christian family.
Scientists from Archaeology Warwickshire carefully examined the coffin before opening it this week, noting that what remained of the burial box was made from a single sheet of lead and sealed at the corners with molten lead, the BBC reports. Attempts to peer inside the coffin using an endoscope proved futile, as it had become filled with clay silt.
Although the body has long since decomposed, researchers were able to recover fragmentary skeletal remains and two jet bangles, or bracelets, according to a statement released by Archaeology Warwickshire.
"We will carefully sift through these over the coming weeks to recover as much as possible and determine if there is anything suitable for detailed analysis," Archaeology Warwickshire Business Manager Stuart Palmer said in the statement. "This will include the submission of a sample for a radiocarbon date which we hope will narrow down the possible date range for the burial."
These tests could include anything from soil micromorphology to inorganic geochemical testing and trace organic chemical analyses, reports the Tamworth Herald, a local newspaper that has been carefully covering the coffin's discovery.
But Palmer noted that while there is still much lab work to be done, the team's early investigatory efforts have already proved illuminating.
"Finding the two jet bangles was a surprise," Palmer said in the statement. "They rather suggest that the child was female although we cannot say with certainty if they were worn as bracelets, clothing adornments or were woven into long hair."
The coffin was initially discovered in October by metal detectorists from the Digging Up The Past Metal Detecting Club. The amateur historians took turns guarding the coffin alongside local authorities until it could be safely removed from the plowed Leicester field where it had been found.
"[The coffin's discovery] is important because it's a rare opportunity to look at the burial customs, the environment and the type of clothing," Palmer said, according to the BBC. "We hope it will shed much needed light on a remote period of our past."
Archaeology Warwickshire is conducting a poll in order to name the unidentified Roman child. The group is asking the public to vote for five possible monikers, all based on Roman words, LiveScience notes. The five names include, "Oriens (rise – as the sun), Loquor (tell- declare), Addo (inspire), Accendo (illuminate) and Parvulus (infant)."
LOOK: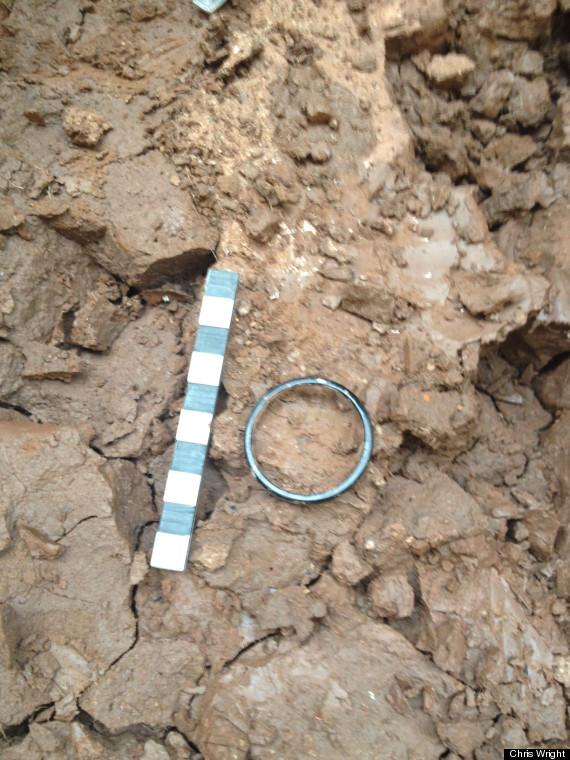 Archaeologists found fragmentary skeletal remains and jewelry inside a Roman coffin estimated to be between 1,600 and 1,7000 years old.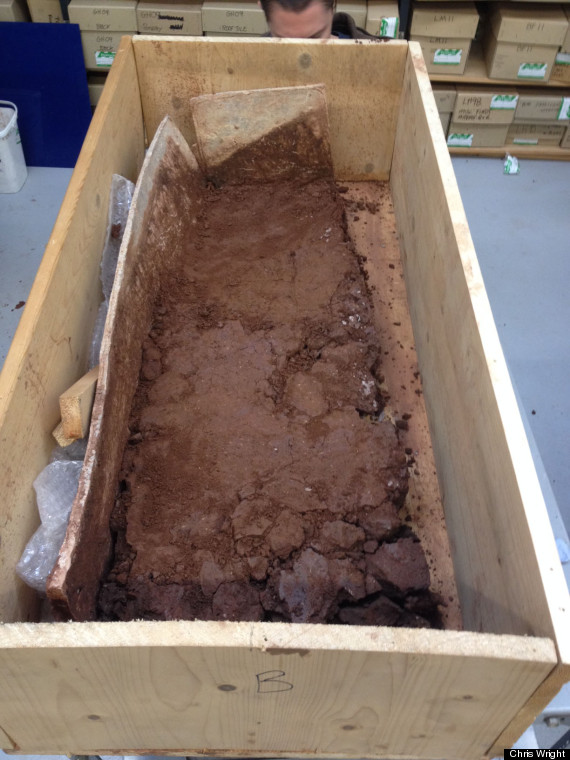 A small, child-sized Roman coffin found several weeks ago in a British field has finally been opened, revealing bone fragments and jewelry believed to have been from a small girl.
BEFORE YOU GO