It's no secret that today's stars are scrutinized now more than ever -- and as it turns out, some of them have a bone to pick with the haters.
In a recent interview with Reuters, Ariana Grande got heated when discussing the media's sharp criticism. She took to Twitter to share the link with fans.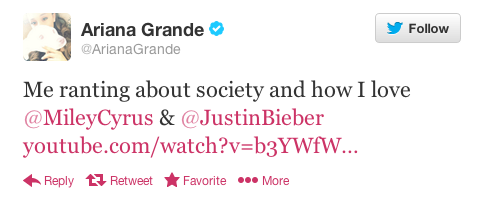 "I'm not gonna live my life in fear of what people are gonna say," the "Right There" singer explained. "I just put out a No. 1 album on Billboard, can I talk about that?"
Watch the full interview in the video above.
Ariana was also quick to defend fellow pop star, Miley Cyrus. She said:
She's an adult. She can do whatever the hell she wants, honestly. And she looks amazing. Like, she looks gorgeous. She looks stunning -- and she's having so much fun. If her choices aren't for you, don't look at it. Move on. Talk about something else. Worry about bettering your life, not hers.
She also shared her thoughts on pal Justin Bieber, saying:
He can do whatever he wants. He's doing the same thing as every other boy in the world right now. He's just under a microscope and he's being scrutinized by people who don't know him. I know him and he's a good person.
You tell 'em, Ari!
What do you think of Ariana's mini-rant? Do you agree/disagree with her? Sound off in the comments below or tweet @HuffPostTeen!
BEFORE YOU GO
PHOTO GALLERY
Ariana Grande Photos
http://www.tumblr.com/tagged/ariana+grande+gif