 Ron Howard is many things to many people.
He's an acclaimed actor, writer and director. (He most recently won rave reviews for his direction of the Formula One thriller "Rush".) He's a relationship inspiration, having been happily married since 1975 to actress Cheryl Alley.
But beyond all that, he's also an artist. More specifically, he's a "doodler" -- and a darn good one.
He's so good, in fact, that Amazon has agreed to peddle a limited edition of 8,000 coffee mugs (smaller ones will be $25 and larger ones cost $35) decorated with the movie director's doodles -- and signed by him as well -- starting this Friday as part of an initiative to benefit the Boys & Girls Clubs of America.
"I believe in what this organization does on so many levels for children of every demographic and all around the country," Howard told HuffPost. "I think the clubs are traditional and progressive at the same time and that they promote a spirit of discovery."
The soft-spoken 59-year-old explained his doodling began as a kind of game about two decades ago, when he started absent-mindedly drawing on the backs of memo cards while on sometimes hours-long conference calls.
"I would do three random squiggly lines while I was chatting on a long call. Then I would start to connect the lines and shape an image out of them," he said. "I'd color them in with crayons or colored pencils. They're almost entirely out of my subconscious."
Over the years, he started saving the best ones, encouraged by the positive feedback he received from family and friends. His wife thought a few of them were so good she had them framed and hung in the family's game room. Eventually Howard sent a few out on Twitter and, as they say, the rest is history.
"I started getting a lot of good feedback from people on Twitter. Of course my family has to look at them and chuckle but comments from Twitterville aren't mandatory," he said. "My Twitter followers really pushed me to do this and emboldened me to put these out there. I find this both satisfies my ego and embarrasses me as well."
Howard collects coffee mugs, so it made sense to start decorating them with doodles.
"I have hundreds of these doodles from the last 20 years. Ultimately I selected four of the designs and we've made 2,000 numbered mugs of each of the images in coordination with Amazon," he said. "Amazon said they'd put them on the site at no cost. All the profits will go to the Boys & Girls Clubs [of America] because I love what they do."
Yet Howard insists he's far from an artist, modestly admitting he never drew as a kid. "I partly started this because I'm always working with great storyboard artists and designers and I so envy their talents," he said. "I started this as a way to gain a little bit of confidence so now I can actually rough out a little bit of a rudimentary storyboard."
In addition to doodling, Howard said he and his wife Cheryl are finding all sorts of fun ways to spend their free time now that the kids are out of the house.
"Cheryl and I met as teenagers and got married very young and we didn't marry to have kids. We just wanted to be together. Then we had four kids and they were raised pretty much by the time we were in our early 50s," Howard said. "The empty nest wound up reminding us of the early part of our lives and we fell into old patterns. We are having a lot of fun. We love car trips and we like to find places where we can go on hikes that aren't grueling but are interesting.
"Now that the kids are grown you can look a few months ahead and say 'hey, what would we like to do over Labor Day?'" he added. "It's not about the Little League games anymore."
To find the mugs, search for "Ron Howard Mugs" on Amazon. Check out just one of the four designs below.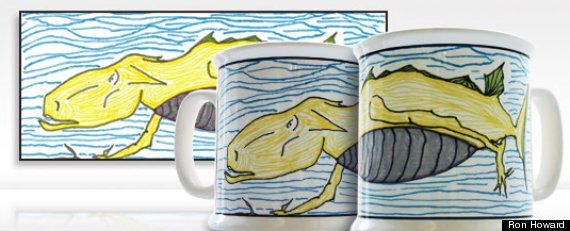 BEFORE YOU GO
PHOTO GALLERY
Couples Celebrating 25 Years Of Marriage