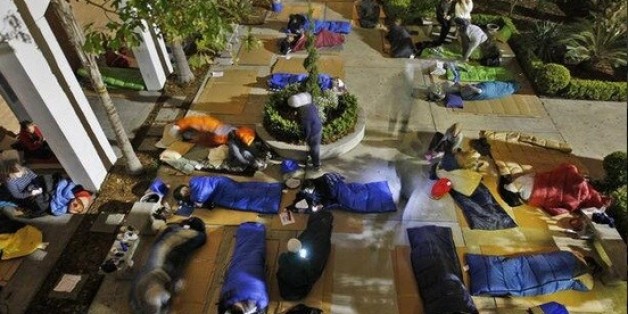 What does it really feel like to be homeless and have to sleep in the often cold, unforgiving outdoors?
Although it's a far cry from the bleak realities the homeless face every night on the streets of America, people around the nation are trying to shed light on the answer to that question with "sleep outs" designed to offer a glimpse, if just for a single night, into one of the many challenges that the homeless face: surviving a night of sleep outside.
"When you're cold and you're homeless, you're not picky," a 20-year-old client of Covenant House in New Orleans identified as "Bradford" told The Times Picayune about the homeless experience. "A newspaper, a cardboard box, a plastic bag -- anything to stop the wind."
The Covenant House is a crisis shelter near the French Quarter that provides food, clothing and shelter and other basic needs for homeless kids in the region.
Dozens of people slept outside Thursday night in New Orleans and more people plan to do it again tonight, all to help raise awareness for the Covenant House and the regions' homeless and to get a first hand experience of what it feels like to be on the streets.
"You can imagine it," Bradford said, "but until you experience it, it's hard to relate."
Also on Thursday night in Boulder, Colo., about 80 people participated in a sleep out and raised $80,000 for homeless youth, according to 9News.
The event in Boulder was organized by at-risk youth center Attention Homes which described the event on their website as a way to give participants a chance to weather the "uncertainties that come from living on the streets." But unlike the group's clients, participants who may wake up sore, cold or unrested have the benefit of knowing that next morning "they can return to safe and warm homes, their jobs and their families."
Occurring throughout the year, but with more frequency in the fall months and several happening in cities all over the country in November -- here, here and here are just few recent examples this month -- participants use cardboard boxes, tents or sleeping bags and try to mimic the homeless sleeping experience as best they can and raise money or awareness for the homeless, often youths, in their areas.
It can be a difficult number to pin down, but despite a housing crisis, a great recession and income inequality at an all time high, the number of homeless in the U.S. appears to be in decline over the last decade. But, according to a recent report from The Atlantic, there are still approximately 633,000 adults in America that are homeless -- that's down from nearly 770,000 in 2005.
However youth homelessness is at an all-time high. According to an October report from Al Jazeera America, an estimated 1.2 million students enrolled in schools across the U.S. were homeless in 2011-2012 -- a 72 percent increase since 2007.
Take a look at just a handful of the recent sleep outs around the nation that are helping end homelessness in the U.S.:
The Covenant House's sleep out in New Orleans:
Thanks @RCatNola of The Times Picayune for sleeping out with us. http://t.co/x4LmU0u4hd pic.twitter.com/ofPxGiYI9B

— Covenant House (@CovenantHouse) November 14, 2013
Reggie's Sleepout in Demoine, Iowa, scheduled for Nov. 16, has already raised more than $100,000 for homeless youth. Here's a look at last year's event:
Rare Breed Youth Services hosts an annual sleep out, here's a look at theirs from 2010:
Interfaith Outreach and Community Partners hosts a sleep out every year in Plymouth, MN and just had theirs Thursday night:
Keystone Opportunity Center in Quakertown, PA just organized their sleep out and got creative with the cardboard:
The Lord's Place in West Palm Peach, Fl organized their event in April and raised over $200,000 to fight homelessness:
BEFORE YOU GO
PHOTO GALLERY
Celebrities Who Were Homeless