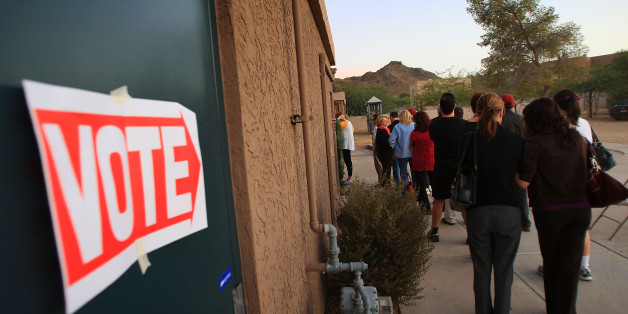 Contrary to the claims of conservative officials in Arizona, undocumented immigrants rarely commit voter fraud in the state, according to a new report.
The Arizona Republic combed through voter fraud records in Arizona's Maricopa County, where the capital of Phoenix is located, and found 34 cases in which a suspect was charged with the crime since 2004. Only two of the suspects were undocumented, while another 12 were foreigners living legally in the United States.
Several of the legal permanent residents had been living in the United States for decades and said in court that they thought they were permitted to vote, the newspaper reports.
The majority of the cases involved convicted felons who said they didn't realize they were no longer allowed to vote.
Arizona passed a law in 2004 requiring voters to present proof of citizenship in order to vote. The Supreme Court struck down the additional requirement last year for federal elections, but allowed the law to be enforced for state elections. The law's backers, including Arizona Attorney General Tom Horne and Secretary of State Ken Bennett, continue to say that illegal immigration is a source of voter fraud in the state.
Arizona officials been known to heap the blame for problems that aren't proven to exist on the state's undocumented immigrants, the vast majority of whom are Hispanic.
In her defense of the state's controversial 2010 immigration enforcement law, SB 1070, Gov. Jan Brewer (R) has repeatedly cited the need to defend the border against criminals, falsely claiming in 2010 that the majority of people who cross the Arizona border illegally are drug mules.
In fact, violent crime has dropped in recent years along the U.S.-New Mexico border in Arizona, according to crime statistics reported by USA Today and the Huffington Post.
BEFORE YOU GO
PHOTO GALLERY
Dumbest Commentary About Latinos In 2012