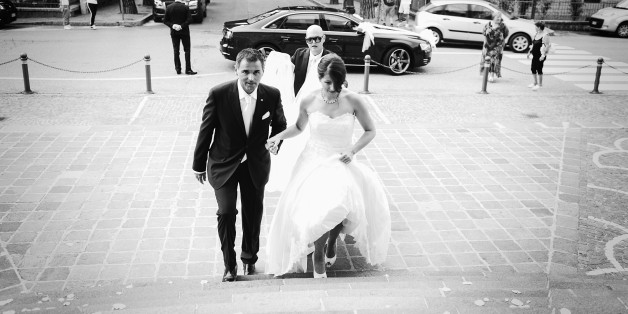 LOS ANGELES -- Nathan Louis Campbell, the driver of a car accused of mowing down Venice Boardwalk pedestrians in August, killing a 32-year-old honeymooner from Italy, seemed to be aiming for people, witnesses testified Tuesday at his preliminary hearing.
Campbell, a 38-year-old from Colorado who had been living in his car in California, could face life imprisonment if convicted of murder, assault with a deadly weapon and hit and run. His preliminary hearing, to determine whether prosecutors have enough evidence to hold Campbell for trial, will resume in a few weeks to accommodate witness schedules.
Alice Gruppioni, a 32-year-old tourist from Italy, was run down as she strolled the boardwalk with new husband Christian Casadei, 33. The Aug. 3 carnage also hurt 16 people.
Witnesses testified during the hearing that the driver's face was fixed straight ahead as he revved the engine, never blowing his horn as people dove out of his way, according to The Associated Press. Mike Giantomaso of Pennsylvania said he thought at first it might be a television stunt.
"And then we realized it just wasn't a show," said Giantomaso, according to AP. "When I looked up it was coming straight at us."
Gruppioni's aunt, 51-year-old Katia Gruppioni, travelled from the family's native Bologna, Italy, to Los Angeles this week to represent her family at Campbell's hearing. She said she was the only member of the family emotionally ready to face Campbell.
"The fact that something like that happened in this way must have a reason," Katia Gruppioni told The Huffington Post in a phone interview. "And the reason will end in justice."
Casadei is trying to "cope with the reality" of his wife's death, Gruppioni said. "He is just trying to think [about] how to go on without his wife," she explained. "It's a life alone, when it was supposed to be a life of the two of them together."
Gruppioni and family lawyer Greg Bentley said the family will press its request to review public records about the construction and safety of Venice Boardwalk, including complaints about boardwalk safety and reports of unauthorized vehicles driving on the boardwalk.
They filed a public records request following Alice Gruppioni's death, but said they still haven't received all the information they're seeking. Once they do, they'll decide whether to file a claim against the city for Alice Gruppioni's death, said Bentley.
Three days after the crash, Los Angeles City Council passed a motion to erect temporary barriers at the boardwalk's most congested areas to block vehicles. Councilmember Mike Bonin, who introduced the motion, also asked for a public safety assessment of the area. He said local police officers told him the boardwalk gets an average of 15 to 20 accidental drive-ons every day by vehicle drivers who take wrong turns or follow inaccurate GPS devices.
"We all know that the Venice Beach Boardwalk is a worldwide attraction and it simply unacceptable that cars are gaining access to that roadway," said Bentley. "We are evaluating on the family's behalf why this is taking place, and what steps, if any, has the city taken to stop it from happening."
The temporary barriers have been successful in stopping accidental drive-ons, said David Graham-Caso, an aide in Bonin's office.
A draft of the public safety assessment is available online and is being reviewed by the Venice neighborhood council, which serves as adviser on new community initiatives, said Graham-Caso.
The report, written by the Recreation and Parks Department, calls for retractable bollards, manual gates, trees and planters along parts of the boardwalk most prone to accidental drive-ons.
The report also suggests closing streets most commonly used by pedestrians, updating security cameras, public address systems and lighting. The total estimated cost for all of the suggestions: approximately $1.75 million.
As for Alice Gruppioni's parents, every day is a struggle, said Katia Gruppioni, whose brother is Alice's father.
"They are really, really brave every morning," said Gruppioni. "To open their eyes and just cope with the fact that something like this happened ..." She trailed off.

BEFORE YOU GO
PHOTO GALLERY
Venice Boardwalk Hit-And-Run: A Timeline