 More voters would pick Mitt Romney in a do-over of the 2012 election. Views of the ACA grow more negative, but most Americans continue to reject a repeal. And the New York Post attempts to "unskew" the 2012 jobs data. This is HuffPollster for Tuesday, November 19, 2013.
OBAMA'S APPROVAL DROPS AFTER HEALTH CARE ROLLOUT - HuffPollster: "The American public is expressing serious doubts about the implementation of the new health care law, sending President Barack Obama's ratings to a new low, a poll released Tuesday morning by The Washington Post and ABC News finds. Obama's approval rating is down to 42 percent, with a record 55 percent disapproving -- down significantly from October, and slightly worse than his previous low point of 54 percent disapproval in late 2011. Only a third of Americans approve of Obama's implementation of the new health care law, while 63 percent disapprove. Most don't think Obama deliberately misled the American public when he said those who liked their policies could keep them -- just 44 percent say it was an intentionally false claim. But 56 percent say that the cancellation of some existing policies represents a sign of mismanagement rather than a normal startup problem. An overwhelming majority think the requirement for all individuals to have health insurance should be delayed." [HuffPost]
Voters would prefer Mitt Romney - Gary Langer: "And perhaps adding insult to injury, registered voters divide numerically in Mitt Romney's favor, 49--45 percent, if they had a mulligan for the 2012 presidential election. While the difference between the two is within the poll's error margin, Obama's support is 6 points below his actual showing a year ago." [ABC, see also WaPost]
Reaction from Twitter:
-RealClearPolitics' Sean Trende: "I don't read all that much into the Romney/Obama #s, esp. w Romney so close to what he got in 2012. Fun talking point for GOP, not much more" [@SeanTrende]
-Pollster Steve Lombardo (R): "If #Obama approval rating is this low in the spring, POTUS will be an anvil tied to Dems running in 2014. [@Steve_Lombardo]
-Pollster Stan Greenberg (D): "Very painful poll and take Obama's numbers seriously" [@StanGreenberg]
-Pollster Logan Dobson (R) - "Here's a doozy: 49% of voters think the Democratic Party is 'too liberal.' Just 43% think GOP is 'too conservative.'" [@LoganDobson]
ARE JOURNALISTS OVERHYPING ACA TROUBLES? - Brendan Nyhan: "It's true, of course, that the rollout of the new insurance exchanges has gone much more poorly than the administration expected, raising concerns among members of Congress, including Democrats who normally back Obama….Journalists are extrapolating wildly from this starting point, imagining an unfolding political catastrophe that somehow induces Democrats in Congress to override a presidential veto and repeal their party's signature domestic policy achievement of the last 30 or more years." [CJR]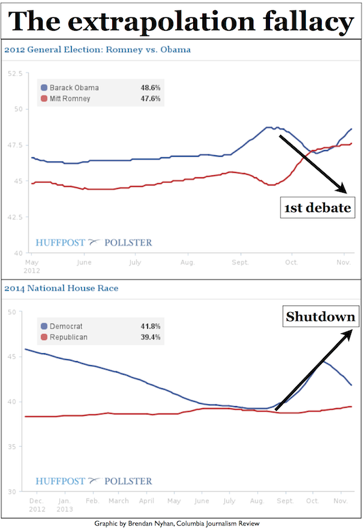 MOST AMERICANS STILL DON'T WANT OBAMACARE REPEALED - Ron Brownstein: "Despite sharp divisions over the long-term impact of President Obama's health-reform law, fewer than two in five Americans say it should be repealed, virtually unchanged since last summer, the latest United Technologies/National Journal Congressional Connection Poll has found.….Reprising a question first asked in July, the survey recorded a close split when respondents were asked to choose among three options for what Congress 'should do now about the health care law.' Thirty-eight percent of those polled said Congress should 'repeal the law so it is not implemented at all,' while 35 percent said lawmakers should 'wait and see how things go before making any changes.' Another 23 percent said Congress should 'provide more money to ensure it is implemented effectively' (the remaining 5 percent had no opinion). Notwithstanding all the tumult surrounding the law's rocky implementation, those numbers changed little from July, when 36 percent supported repeal, 30 percent wanted Congress to wait and see, and 27 percent wanted lawmakers to provide more funds for implementation. [National Journal]
DID THE CENSUS BUREAU FALSIFY JOBS DATA? John Crudele: "Just two years before the presidential election, the Census Bureau had caught an employee fabricating data that went into the unemployment report, which is one of the most closely watched measures of the economy. And a knowledgeable source says the deception went beyond that one employee — that it escalated at the time President Obama was seeking reelection in 2012 and continues today….people who know how the survey works say that simply by creating people and filling out surveys in their name would boost the number of folks reported as employed. Census never publicly disclosed the falsification. Nor did it inform Labor that its data was tainted." [NY Post]
A source tells National Review's Jim Geraghty he doubts the problem is widespread - "One Campaign Spot reader is a veteran of the Census Bureau, who finds some elements of the story believable, but is skeptical that this sort of dishonesty could be widespread within the organization: I worked at the Census Bureau for 23 years and knew the people who ran the CPS Branch. It is true that the vast majority of Census employees support Obama but I have a hard time believing that they would risk their careers by deliberately manipulating the employment data. It is true that interviewers sometimes submit fake completed interviews (curbstoning) but this is usually due to pressures to meet a target of completed interviews or laziness or both. Even if there was a coordinated conspiracy to fake the unemployment numbers, doing it by having a lot of interviewers fake interviews seems to be an inefficient and risky way to do it." [National Review]
Quality control - As Geraghty's correspondent explains, the problem of fraudulent interviews is not new. As explained in detail in the documentation of its methodology, the Census regularly re-interviews respondents to check for falsification: "Periodic reports on the [Quality Control (QC)] reinterview program are issued showing the number of [field representatives (FRs)] determined to have falsified data. Since FRs are made aware of the QC reinterview program and are also informed of the results following reinterview, falsification is not a major problem in the CPS. Only about 0.5 percent of CPS FRs are found to falsify data. These FRs resign or are terminated." Given a sample of 60,000 households, it would require more than a handful of dishonest interviewers to create a real skew in the data. [Census CPS Design and Methodology, Appendix E]
HUFFPOLLSTER VIA EMAIL! - You can receive this daily update every weekday via email! Just enter your email address in the box on the upper right corner of this page, and click "sign up." That's all there is to it (and you can unsubscribe anytime).
TUESDAY'S 'OUTLIERS' - Links to more news at the intersection of polling, politics and political data:
-Typhoon Haiyan is drawing less attention from Americans than other recent international disasters [Pew Research].
-Consumer confidence continues to tick up in the aftermath of the government shutdown. [Gallup]
-Satisfaction is also back up slightly -- to 20 percent. [Gallup]
-The Cheney family feud highlights a central factor in growing acceptance of same-sex marriage: knowing someone who's gay. [AP Digits]
-Jonathan Bernstein warns journalists not to read too much into the variability associated with small subgroups on polls. [PlainBlog]
-PPP (D) finds Sen. Thad Cochran (R-Miss.) in danger of a primary challenge, and Republicans well-positioned in Montana. [PPP Mississippi, Montana]
-Colorado Gov. John Hickenlooper (D) holds small leads against some possible challengers. [Quinnipiac]
-Nate Cohn says voter frustration with Obamacare will subside if and when it gets up and running. [New Republic]
-How data is redefining the way political ads are targeted and purchased. [AdAge via @AlexLundry]
-Kristen Soltis Anderson (R) is writing a book. [@KSoltisAnderson]
-SurveyMonkey adds an "enterprise level" service. [Research-Live]
BEFORE YOU GO
PHOTO GALLERY
Presidents On Inauguration Day