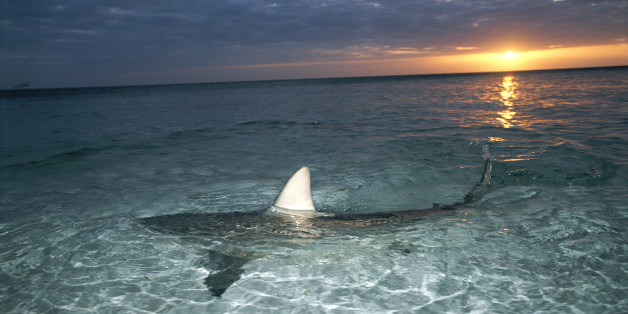 A Hawaii resort has welcomed two sharks onto its property in an effort to better educate visitors about sharks and to "banish their man-eater reputation."
The 62-acre Hilton Waikoloa Village, on Hawaii's Big Island, is something of a Hawaii Disney Land. It's main attraction is Dolphin Quest Hawaii, where -- for only money -- visitors can swim and play with well-trained dolphins.
Now, Dolphin Quest, which is an independently run company, has added two blacktip reef sharks to the Hilton's ocean-fed lagoon.
The sharks, which were raised in captivity, are both 4.5-foot-long, 5-year-old males. Erik Nash, a Dolphin Quest aquarist, says he hopes having them in the lagoon will help to demystify sharks and allow them to serve as "ambassadors for their wild counterparts."
"The idea," he told the Hawaii Tribune-Herald, "is to promote better stewardship of sharks and their habitats."
The blacktip reef shark is "near-threatened," according to the International Union for Conservation of Nature, and it's timid nature means that it seldom poses a danger to humans.
But while the blacktip reef shark does generally prefer shallower waters and small-home ranges -- making the lagoon a promising location -- some visitors may still balk at the Hilton's idea of a "habitat."
According the the Hilton press release:
"The sharks cruise alongside the Lagoon Grill, making it a premier viewing spot for guests and shark enthusiasts. The Lagoon Grill also serves as an ideal lunch location to see the dolphins jump and frolic in their own habitat which neighbors the dazzling blacktip sharks."
Dolphin Quest says it is currently focusing on the sharks' adjustment to their new home, but special "shark interactions" are planned for the future. "As many as three times per day," according to the Tribune-Herald, "an eight-member Dolphin Quest team makes assessments of the sharks and works to train them."
Dolphin Quest currently charges more than $200 for a dolphin experience. What do you think interacting with the sharks will go for?

BEFORE YOU GO