Back judge Terrence Miles saw something during the final play of the "Monday Night Football" thriller between the New England Patriots and Carolina Panthers that caused him to throw a flag. That something seemed to be contact between Panthers linebacker Luke Kuechly and Patriots tight end Rob Gronkowski. The target of a pass from Tom Brady on that disputed final play, Gronk appeared to be held by Kuechly as Panthers safety Robert Lester intercepted the pass. To delight of the fans in Charlotte, referee Clete Blakeman waved off the flag, sealing Carolina's 24-20 win.
"There is no foul on the play," Blakeman announced after a brief huddle of the officials. "The game is over."
The game may have been over but the debate over the play raged on. Did the refs get it right? Was the pass uncatchable? Does that even matter if Kuechly held Gronkowski?
Below is a photo by Streeter Lecka of Getty Images that shows Kuechly with his arms around Gronk in the end zone.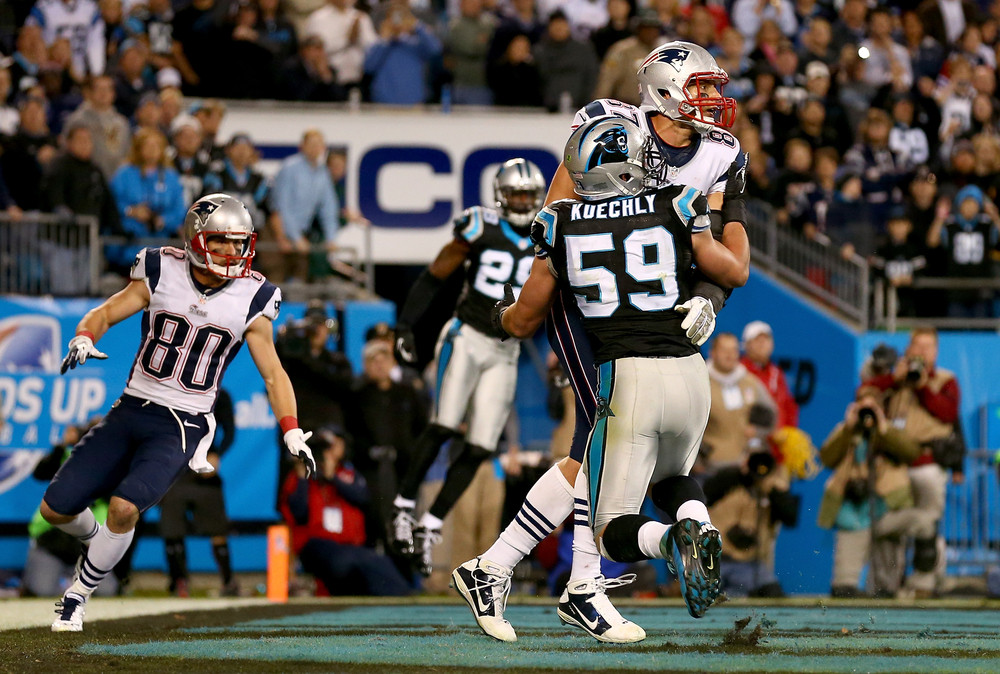 Boston Globe photographer Barry Chin also captured still images from the final play that show the contact between Kuechly and Gronkowski as Lester intercepted the ball.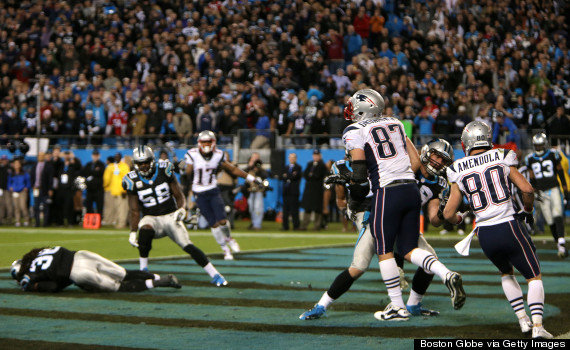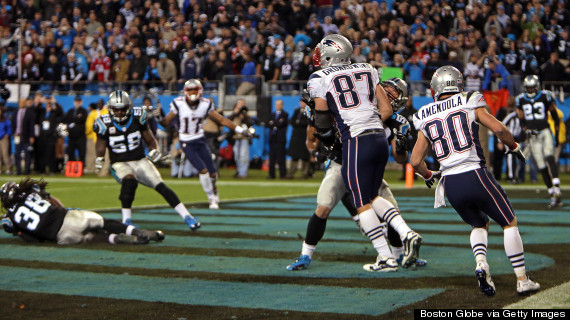 Here is a look at the play as it happened in real time as well as several replays:
Although he was quite brief on the field, Blakeman later provided a more detailed explanation of what happened to pool reporters Mike Reiss of ESPNBoston.com and Joseph Person of the Charlotte Observer.
"So it was determined at that point in time that when the primary contact occurred on the tight end that the ball, in essence, was coming in underthrown and in essence it was [immediately] at that point intercepted at the front end of the end zone," he said, via ESPN.com. "So there was a determination that, in essence, uncatchability -- that the ball was intercepted at or about the same time the primary contact against the receiver occurred."
BEFORE YOU GO
PHOTO GALLERY
Twitter Reactions To Patriots-Panthers Finish