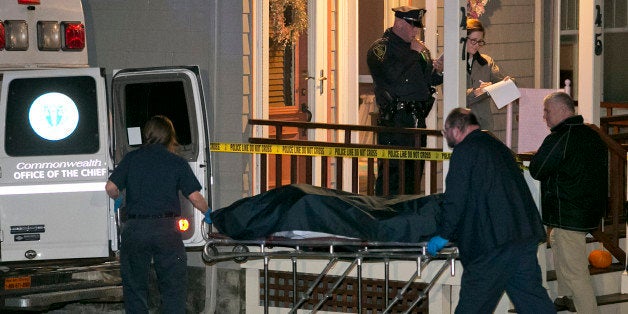 Massachusetts police say they are not looking for suspects in the suspicious deaths of a family of four whose bodies were discovered inside their Arlington home.
The bodies of Scott Jones and his wife, Mei Kum Jones, both 43, and their twin sons, Colt and Cameron, who would have turned a year old on Nov. 26, were found by police inside their Newland Road home Monday afternoon.
According to the Middlesex District Attorney's Office, officers were conducting a well-being check when they made the shocking discovery.
Authorities have remained tight-lipped about the investigation. They have yet to call it a case of murder-suicide, but have described it as an "isolated incident."
According to The Boston Globe, a neighbor said police responded to the Jones' residence two years ago when Scott Jones threatened to kill himself. A law enforcement official confirmed that account, the media outlet reported.
Mei Kum Jones' brother, Ben Li, told Boston's WBZ-TV that Scott Jones had recently moved out of the family home. He said the couple was having marital problems and was divorcing.
Monday night, Road Scholar, a Boston-Based travel organization Mei Kum Jones worked for, issued a statement about her death.
"Mei was a valued member of our team, and her loss is deeply felt by all of us," the statement read. "As we grieve together, we can only imagine the impossible loss Mei's family must bear, and our deepest sympathies are with them."
No further details have been released. According to the district attorney's office, the cause and manner of death in each case are pending autopsy by the Office of the Chief Medical Examiner. A timeline on the autopsies was not available Tuesday.
BEFORE YOU GO
PHOTO GALLERY
Marriages That End In Murder