 While the modern-day NBA may be full of fantastic point guard play, terrific backcourts also abound, full of interchangeable parts with combo guards and dynamite playmakers. Here are the nine best backcourts of the future:
Chicago: Derrick Rose, Jimmy Butler
Since his return from his knee injury, Derrick Rose may not be quite the same guy he used to be, but it should simply be a matter of time before he's back to form. In the interim, Jimmy Butler has morphed into a superb on-ball defender and rebounder, as well as someone who can create offense. This duo's pure athleticism moving forward is scary.
San Antonio: Tony Parker, Danny Green
The Spurs seem to have a knack for rehabbing players. Danny Green was cut by Cleveland, only to become one of the NBA's premier 3-point shooters and perimeter defenders. At 26 years old, he is a terrific two-way player who moves extremely well without the ball, which has created a wondrous synergy with Tony Parker. For his part, Parker, 31, is constantly probing the lane, and ranks in the top five every season in shooting from the paint. His average of nearly 19 points per game and 6 assists while shooting 54 percent from the floor is a tremendous clip for a guard.
LA Clippers: Chris Paul, J.J. Redick
Chris Paul, 29, is still the league's best lead guard because he can control a game with his intelligence and passing ability. Acquired in the Eric Bledsoe deal, J.J. Redick's the perfect fit for this team. He has become a deft scorer who can create off the dribble in pick-and-roll and via his constant motion without the basketball.
Indiana: Paul George, George Hill
Paul George might be the third-best player in the league, and his play impacts the game in every facet. In addition to his defense, he has become a consistent 3-point shooter (36.5 percent) and a willing facilitator. George Hill is in that second tier of point guards: a solid, if unflashy contributor.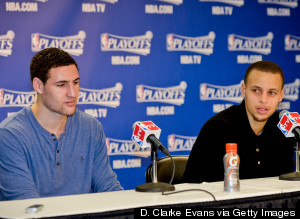 Warriors guards Klay Thompson and Steph Curry combined to average 39 points per game during last year's postseason run. (Getty Images)
Golden State: Stephen Curry, Klay Thompson
There isn't a better shooter in the game today than Steph Curry, and he does it well both off the bounce and in transition. His ankles are the only real concern. As for Klay Thompson, his size at 6-foot-7 and his elite shooting ability (51 percent 3s) make this backcourt extremely dangerous both in transition and in the half-court.
Cleveland: Kyrie Irving, Dion Waiters
Kyrie Irving is an emerging superstar, but Dion Waiters, while a gifted scorer, is a bonafide wildcard with zero shot selection.
Houston: James Harden, Jeremy Lin
Not surprisingly, James Harden has grown into the league's best shooting guard, as Jeremy Lin has parlayed a last season's strong finish into a nice start, averaging 18 points, 5 assists.
Portland: Damian Lillard, C.J. McCollum
Damian Lillard, the reigning Rookie of the Year, combines athleticism and scoring ability in an explosive blend as he continues to improve as a playmaker for others. Wesley Matthews is the starter for now, but rookie C.J. McCollum's rare ability to excel at either guard position should be the ideal complement for Lillard when McCollum returns from his foot injury.
Washington: John Wall, Bradley Beal
John Wall has shown real flashes, but until he significantly improves a severely broken jump shot, he is stuck in neutral. For all his athletic prowess, scoring ability and dynamic vision, he's shooting a career-worst 36.5 percent this season. Bradley Beal, a second-year pro from Florida, is an excellent shooter who excels in the pick-and-roll game and can really score. He is just scratching the surface of legitimate All-NBA potential.
Correction: A previous edition of this article noted that there were seven backcourts. There are actually nine listed.
Email me at jordan.schultz@huffingtonpost.com or ask me questions about anything sports-related at @Schultz_Report. Also, be sure and catch my NBC Sports Radio show, Kup and Schultz, which airs Sunday mornings from 9-12 ET, right here.
BEFORE YOU GO