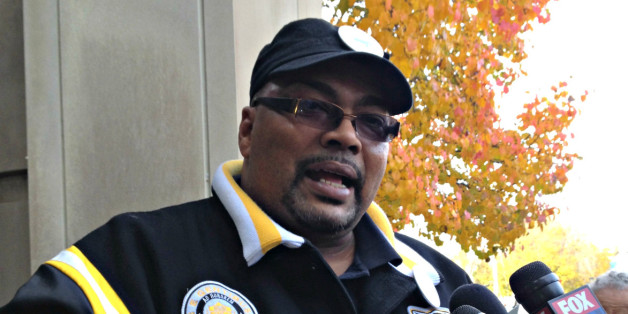 GROSSE POINTE PARK, Mich. -- A local Detroit minister is demanding that police conduct a swift and independent investigation after demeaning videos surfaced online allegedly showing public safety officers compelling African-American men, to sing, dance and make animal sounds.
Malik Shabazz, head of the Marcus Garvey Movement/New Black Panther Nation and a frequent critic of race relations in metro Detroit, led a group of protesters and media through the Department of Public Safety offices in Grosse Pointe Park on Wednesday to photograph his meeting with police leadership.
Shabazz's protest comes about a week after a blog called Motor City Muckraker published videos and a photograph demonstrating the alleged harassment of African-Americans by police officers in this upscale neighborhood bordering Detroit. The Huffington Post reported on Friday the police department had opened an internal investigation.
Shabazz said that as a result of the meeting, officers of the public safety department -- which provides police, fire and EMS services to the town -- will all be individually questioned.
"We expressed our concerns, our outrage, our pain about what we saw, about human beings being, what we feel, violated and used," Shabazz said, calling the actions in the videos "racist" and abusive.
"This is a teachable moment," he said. "We've come so far, but these instances remind us that we have still so much further to go."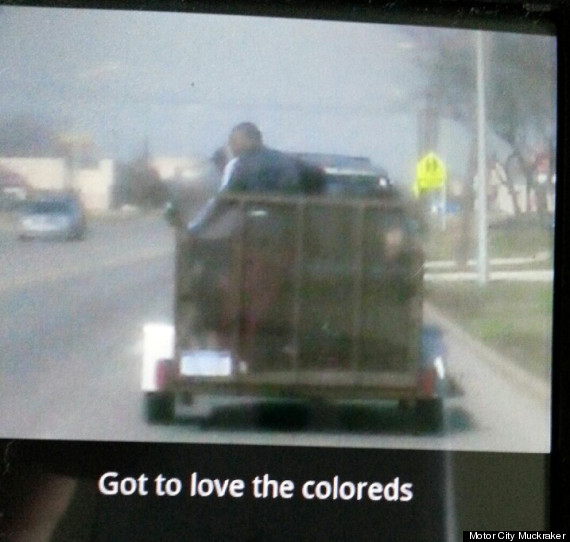 This photo, along with videos obtained by Motor City Muckraker, was allegedly taken by an officer of Grosse Pointe Park Public Safety. Courtesy of Motor City Muckraker.
One man who was featured in one of the videos and recorded being compelled to make chimpanzee sounds briefly appeared at Wednesday's rally. He identified himself as Michael Ronnie Scipo and thanked supporters for attending.
"They were saying all kinds of stuff but I don't know what they were talking about," Scipio said when asked about the recordings, according to MLive.
Others who called for justice at the protest Wednesday said the alleged mistreatment of Scipo and other black men by white police officers brought to mind their own experiences growing up in the Detroit area, which has been persistently segregated by race for the past half-century. Bearing their own stories of police brutality and mistreatment, they shared their concerns that history was again repeating itself.
Detroiter Ken Holloway remembered crossing Eight Mile Road into the neighboring city of Southfield on his bike as a young boy in the 1960s. "The cops would tell us to turn around and go back to where we came from," he said.
Redford resident Michael Bussey, who is Shabazz's accountant, said that when he was 16 years years old, three white Detroit Police officers stopped his car when they saw a child passenger was carrying a toy gun. Bussey was handcuffed and put in the back of their squad car. The cops told him they should have shot him, he said.
"That's been with me all of my life," said Bussey, who is now middle-aged.
The protesters said they believed the videos to be the work of one or a few bad cops, not the entire department. But they, and Shabazz, called for the immediate firing of anyone found to be involved.
"We shouldn't be judged by our color, by our physical or mental characteristics," Holloway said. "Especially by those who have the authority and responsibility to serve and protect."
The protesters sought an independent investigation by the Michigan State Police -- and possibly the federal government -- to make sure justice is served, they said. While Shabazz said he was told by Grosse Pointe Park Police that the Michigan State Police would provide assistance, at least one news outlet reports that state police are playing no role in the administrative investigation.
Shabazz said he would give officials a week to conclude their investigation and give the public answers.
Sheila Jones, a Detroiter who attended Wednesday's protest, said she often sat in the Grosse Point Park public safety department when she was waiting for transportation and noted that the officers always treated her kindly. She was surprised about the videos, and concerned.
"We all need to have a basic respect for another person's humanity," she said.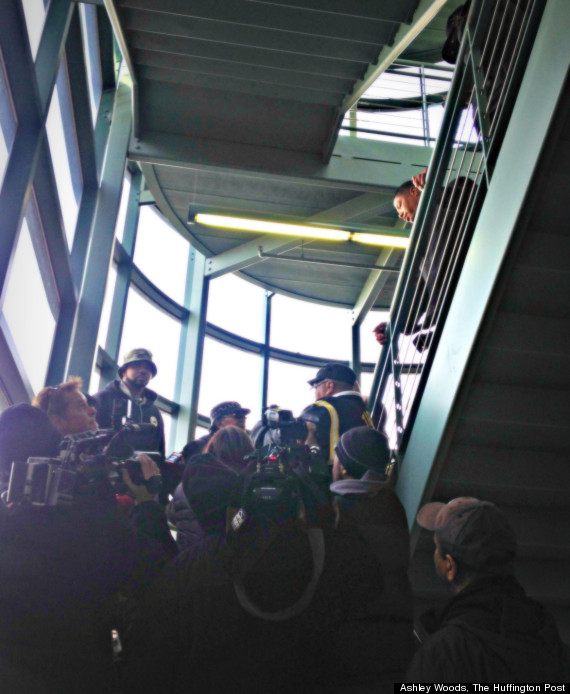 Malik Shabazz leads a crowd of protesters and media to the administrative offices of the Grosse Pointe Park Department of Public Safety on Wednesday, Nov. 20, 2013. (Ashley Woods/The Huffington Post)
BEFORE YOU GO
PHOTO GALLERY
Police Brutality Incidents