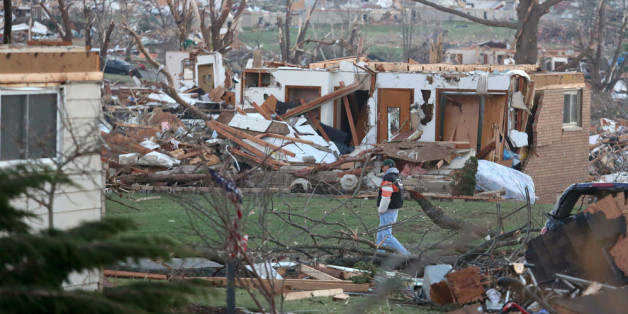 While the full extent of damage caused after severe tornadoes ripped through Illinois last weekend has yet to be assessed, one right-wing religious group has offered one eyebrow-raising explanation.
Robert Ritchie, Executive Director of America Needs Fatima, a project of the right-wing American Society for the Defense of Tradition, Family, and Property, has linked the deadly tornadoes to Illnois' approval of same-sex marriage earlier this month.
As Right Wing Watch pointed out, Ritchie wrote in a blog post:
The massive tornadoes that hit Illinois after the passing of the same sex "marriage" bill, has stimulated many people to reflection.

In it, some see God's chastisement; others see it as yet one more merciful warning from Providence; others yet deny both options and give various reasons.
You can read the full blog post here.
Unfortunately, it isn't the first time the lesbian, gay, bisexual and transgender (LGBT) community has been blamed for a natural disaster.
Last year, chaplain John McTernan linked Hurricane Sandy to LGBT people and President Barack Obama's backing of marriage equality. While most of McTernan's wrath was directed at Obama, he had some choice words for Republican presidential candidate Mitt Romney, too.
"Obama is 100 percent behind the Muslim Brotherhood which has vowed to destroy Israel and take Jerusalem," he wrote at the time. "Both candidates are pro-homosexual and are behind the homosexual agenda. America is under political judgment and the church does not know it!"
Earlier in 2012, McTernan pointed to the fact that Hurricane Issac coincided with Southern Decadence, New Orleans' "Gay Mardi Gras."
"New Orleans is still hosting Southern Decadence with open homosexuality manifesting in the streets of the city," he wrote in a blog. "It could be that God is putting an end to this city and its wickedness. The timing of Hurricane Isaac with Southern Decadence is a sign that God's patience with America's sin is coming to an end."
BEFORE YOU GO
PHOTO GALLERY
Disasters 'Caused' By Gays