Updated story
Whether in City Hall or among the upper ranks of the Chicago Transit Authority, apparently few Chicago officials have regrets over Ventra.
The CTA's new fare payment system that debuted this summer had a calamitous, costly rollout plagued by machine meltdowns, overcharges and myriad glitches.
Though Mayor Rahm Emanuel admitted he was "frustrated" by the bumpy Ventra transition, he nonetheless backed the system and CTA President Forrest Claypool, according to the Tribune.
"As a user of it as recently as yesterday, I use it, I am frustrated that other people — that the company did not live up to their expectation," Emanuel said during a press conference Tuesday.
Along with Emanuel, both Claypool and CTA Board Chairman Terry Peterson stood firm on Ventra while promising transparency as Ventra's parent company, Cubic Transportation Systems Inc., works to get the system back on track, DNAinfo Chicago reports.
Claypool said the agency will release weekly reports on Cubic's progress each Friday; when asked if he had regrets awarding Cubic the contract with the CTA, Peterson said "absolutely not" while noting, "they will not get paid a quarter, a dime from us until they get this system fixed."
All three officials stressed Cubic would not be paid any of its $454 million contract until the system is working smoothly and the transition away from old fare payment methods was complete. In early November, the CTA suspended all deadlines in the Ventra switchover until the system's issues were sorted out.
While officials held up a united front in favor of Ventra, many CTA passengers and Ventra customers are not on board. Wednesday, Regional Transportation Authority Chairman John Gates Jr. ordered the audit of Ventral calling the rollout a "systemic failure," the Associated Press reports.
Eighty people angrily protested the system during a public budget hearing for the CTA last week, according to Medill News Service.
Those who didn't vocalize their frustrations visualized them. Chicagoist shared a photo snapped by a passenger at the Logan Square Blue Line stop that spells out Ventra customers' frustrations (using old magnetic strip farecards, of course):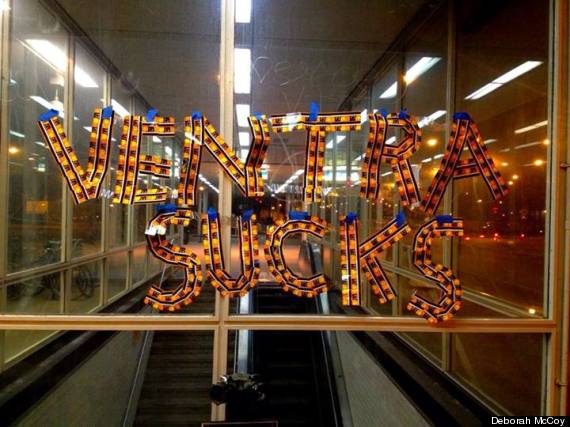 BEFORE YOU GO
PHOTO GALLERY
Ventra Card Hating Is All The 'Rage'