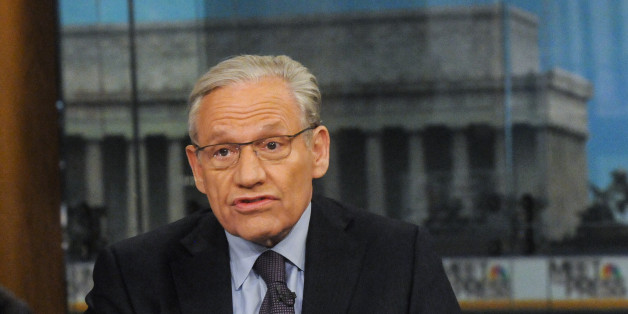 Bob Woodward's recent lament that Edward Snowden had not come to him with his NSA leaks drew a round of sharp pushback from several corners of the media world on Wednesday and Thursday.
Speaking to Larry King, Woodward said that he wished Snowden had not chosen "others" to work with, "particularly the Guardian." He added that he would have tried to convince Snowden not to reveal his identity and to work with him exclusively.
"I would have said to him 'let's not reveal who you are. Let's make you a protected source and give me time with this data and let's sort it out and present it in a coherent way,'" Woodward said.
The comments were noteworthy in part because the newspaper that Woodward calls home, the Washington Post, has been a major beneficiary of Snowden's leaks. Woodward appeared to be finding fault with the way his own paper had handled the story.
But many on Twitter also opined that Woodward seemed to be showing a major lack of awareness about his own place in the media ecosystem. Snowden has talked openly about his disdain for the establishment media in Washington, and Woodward personifies that establishment like few others:
OMG, this is just too funny... "Bob Woodward Laments: Why Didn't Edward Snowden Come to Me?" http://t.co/msIhPxdX0K #SelfAwareness

-- Joshua Holland (@JoshuaHol) November 21, 2013
Lol. Bob Woodward, éminence grise of access journalism, doesn't understand why Edward Snowden didn't come to him. http://t.co/FaEjmSS7tQ

-- Liliana Segura (@LilianaSegura) November 20, 2013
Plus, Woodward thinks a better outcome would be if none of us gets to know who Snowden is or hear him explain in his own voice but Bob does.

-- Jay Rosen (@jayrosen_nyu) November 21, 2013
Blogger Digby also unearthed an old Woodward quote in which he said he had been part of a kind of intelligence "groupthink" that contributed to the failures of the Iraq War. She added, "It's unsurprising that someone in Snowden's position might not think Bob Woodward (or one of the dozens of other journalists who specialize in publishing "authorized leaks") would be the best person to approach."