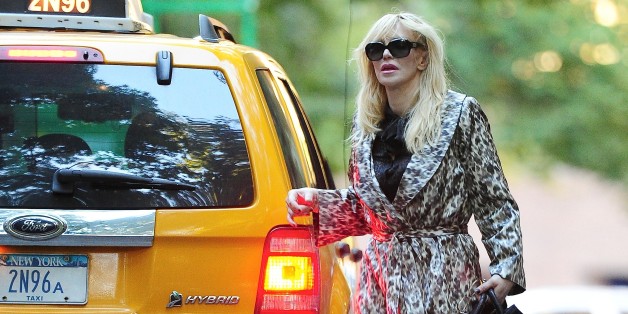 To anyone who has ever ridden a cab in New York City, lost an iPhone somewhere and anyone familiar with the unconventional life of Courtney Love -- this story is for you.
While we were all struggling to stay warm indoors in the near freezing temperatures of NYC last night, Courtney Love was out and about taking cabs here and there. In one of them, Love managed to lose her iPhone -- usually a death sentence for the gadget. Only in Love's case, her iPhone was found by a good samaritan who had every intention of giving it back. And not just any samaritan: New York Times columnist Frank Bruni.
New York Magazine spoke to Bruni, who explained: "It didn't ring last night, but it rang this morning and I discovered that I couldn't even answer a call. It was super-locked." Luckily, Bruni's assistant realized she could see incoming texts and Instagram notifications, the content and senders of which only led to one conclusion: "It's gotta be Courtney Love."
So Bruni tweeted this a few hours ago:
Weird: the iPhone left in my yellow cab last night clearly belongs to @courtney (Courtney Love). Trying to return. Anyone? Courtney?

— Frank Bruni (@FrankBruni) November 21, 2013
And New York mag reports that Love's manager soon got in touch.
In now deleted tweets, a grateful Love posted:

And Bruni summed: "It's not exactly a column I could write but it is a fun story. Now Courtney and I follow each other on Twitter and I have a direct message from her. This is the beginning of a beautiful friendship, or at least a signed copy of a Hole album."
BEFORE YOU GO
PHOTO GALLERY
Celebrity News & Photos