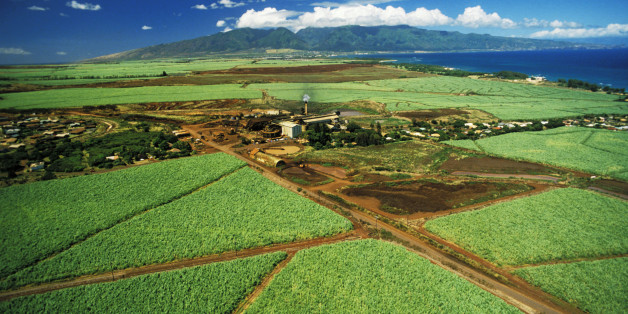 Maui Mayor Alan Arakawa's office has announced the signing of a "Memorandum of Understanding" agreement with the biotech giant Monsanto.
The "Maui County AG Oversight Agreement (AGOA)" states that Monsanto will report all "restricted-use pesticides" that are sprayed in Maui County, how much is sprayed and the number of acres upon which they are sprayed. (Restricted-use pesticides are those that "may be applied only by or under the direct supervision of trained and certified applicators," according to the Environmental Protection Agency.)
Announcement of the agreement comes just days after two historic GMO bills were passed in Hawaii. The island of Kauai passed a bill that puts restraints on where biotech companies can spray pesticides and requires full disclosure of where and when pesticides will be sprayed. The Big Island's bill bans any biotech companies from operating, and bans GMO crops other than preexisting corn and papaya crops.
Compared to these pieces of legislation, Maui's agreement may seem underwhelming. The report from Monsanto is only due on an annual basis, and it does not seem to mandate preemptive disclosure of when and where the pesticides will be sprayed.
Furthermore, the agreement lacks specificity on how Monsanto should exhibit responsible handling of its agricultural activities. The AGOA states Monsanto must report on all "stewardship measures" taken in regard to pesticide use, and must "deploy practices to mitigate incidence of airborne visible fugitive dust," but it does not say what those measures or practices would be.
Though vague in language and seemingly demanding very little, a press release from Mayor Arakawa's office implies that the mayor was motivated by some of the same concerns -- the cost of implementing an anti-pesticide bill and potential legal action from biotech companies -- as Kauai's mayor Bernarnd Carvalho. The AGOA, according to the Maui mayor's office, was meant to "provide some much-needed information to the public without putting financial burdens on taxpayers or opening the County up to costly lawsuits." (Mayor Carvalho expressed concerns about implementation costs before the Kauai County Council voted to pass the bill. He subsequently vetoed the bill citing concerns about its vulnerability to legal action from biotech companies. The Council overrode his veto.)
The agreement was signed by both parties on Nov. 8, but Mayor Arakawa's office did not issue the press release regarding the AGOA until Nov. 20. According to the Mayor's communications director Rod Antone, Mayor Arakawa was waiting to see what would happen with the proposed anti-GMO and pesticide bills on Kauai and Big Island (both bills passed).
"We thought that after the Big Island [passed its bill], this is about a good a time as ever. Maui would be next. It doesn't prevent anyone from approaching the council about a bill, but this is a good way to start the dialogue. The county wanted to be proactive rather than reactive," Antone said.
Monsanto does not operate on Kauai or the Big Island, but it has land on Maui, Oahu and Molokai.

BEFORE YOU GO
PHOTO GALLERY
What Climate Change Just Might Ruin