Regina Balosca Sculley drove 600 treacherous miles to rescue her family after the recent typhoon in the Philippines. And she arrived just in time.
Her childhood town of MacArthur in Leyte province had been flattened by 170-mph winds, NBC News reported. Communication was cut off. Roads were strewn with bodies.
She found her now-homeless relatives dehydrated and sick. The children were vomiting and hot with fever. All had been subsisting on coconuts since the storm hit six days earlier. But they were alive.
"I thought you were all gone," she said as she hugged her mother, according to her Facebook post about the reunion.
(Story continues below image)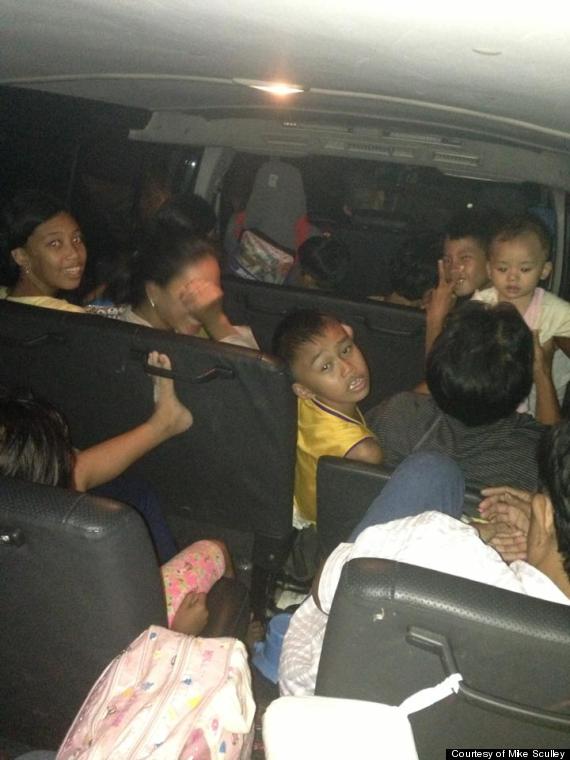 Family members and others packed in a van that Regina Balosca Sculley drove 600 treacherous miles from Angeles City to MacArthur on a rescue mission.
Her husband, Mike, also chimed in on her "Operation MacArthur Rescue" Facebook post, writing that Regina and pals were the first to arrive with supplies and were able to distribute them to "everyone." Then, family members and other villagers -- 27 in all -- piled into a 12-seat van Regina had rented for the trip back to Angeles City. She provided bus tickets for 15 others to go to Manila.
The voyage resumed through a "lawless" territory of hijackings and shootings that compelled Regina to write, "I feared for my life."
On Nov. 17 the group finally arrived safely in Angeles City, where Regina and Mike live. Regina wrote on her own Facebook page Wednesday that a retired Army officer had supplied the child refugees with school supplies, and that they would attend class on Thursday. It was one step toward normal.
While the logistics of permanently housing all of the refugees present a new challenge, Regina wrote: "I will treasure all of this for the rest of my life! It was a long, risky trip but it was a successful journey!"

BEFORE YOU GO
PHOTO GALLERY
Typhoon Haiyan Aftermath (WARNING: GRAPHIC IMAGES)