Nothing quite compares to the power of a photograph to communicate the goings on in the world, captured in the thick of things. Ranging from the serious to the silly, these photos offer peeks into various events around the world this week.
1. Trailing streams of blue and magenta smoke, Britain's Royal Air Force Aerobatic Team, The Red Arrows, perform at the Dubai Airshow on November 18, 2013.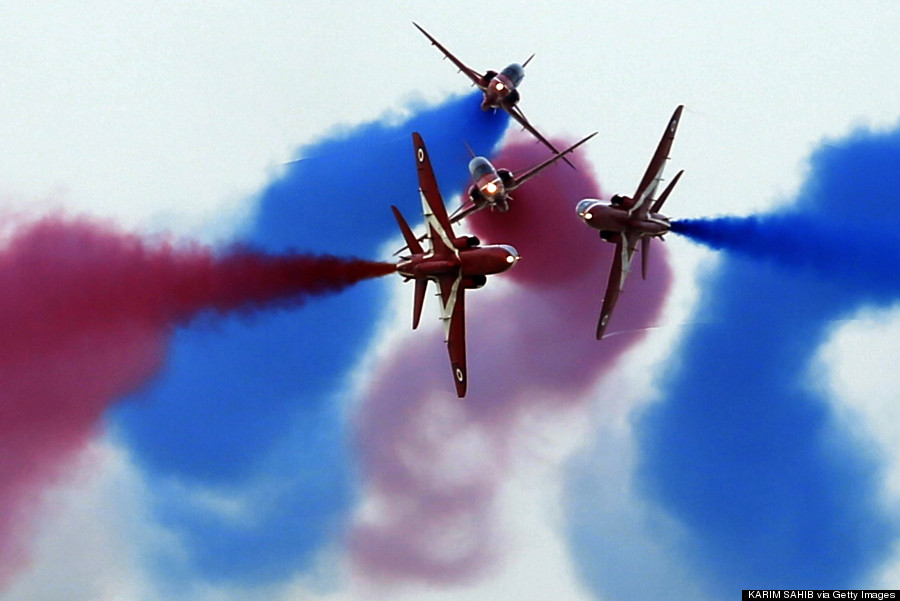 Karim Sahib/AFP/Getty Images
2. Students release lanterns during the opening ceremony of the Tazaungdaing Lighting Festival in Myanmar's northeastern Shan State. The festival is held every year as the full moon approaches in November and is attended by tens of thousands of people from all over the country.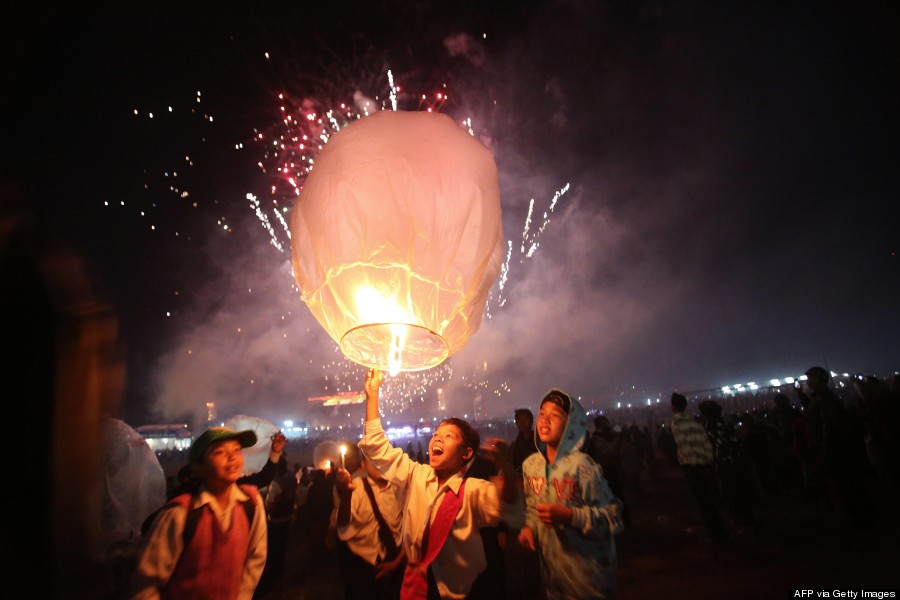 Ye Aung Thu/AFP/Getty Images
3. Indonesia's Mount Sinabung volcano continues to erupt. This man seems fairly unfazed as he uses his cellphone while hot smoke spews from the volcano behind him.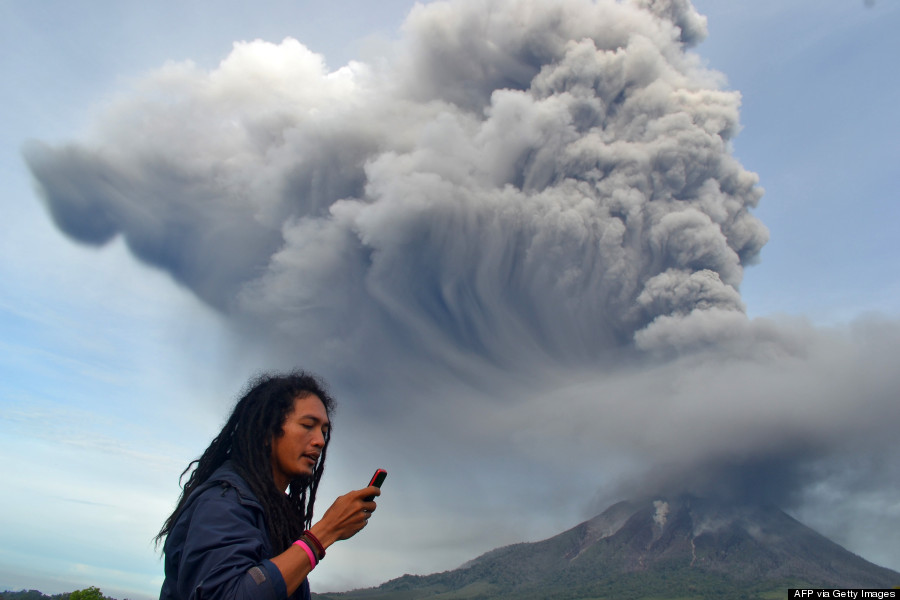 Sutanta Aditya/AFP/Getty Images
4. Lion cubs Fajr and Sjel were born at a zoo in the northern Gaza Strip town of Beit Lahia to lions smuggled into the area from Egypt four years ago. Sadly, the cubs passed away just three days after their birth.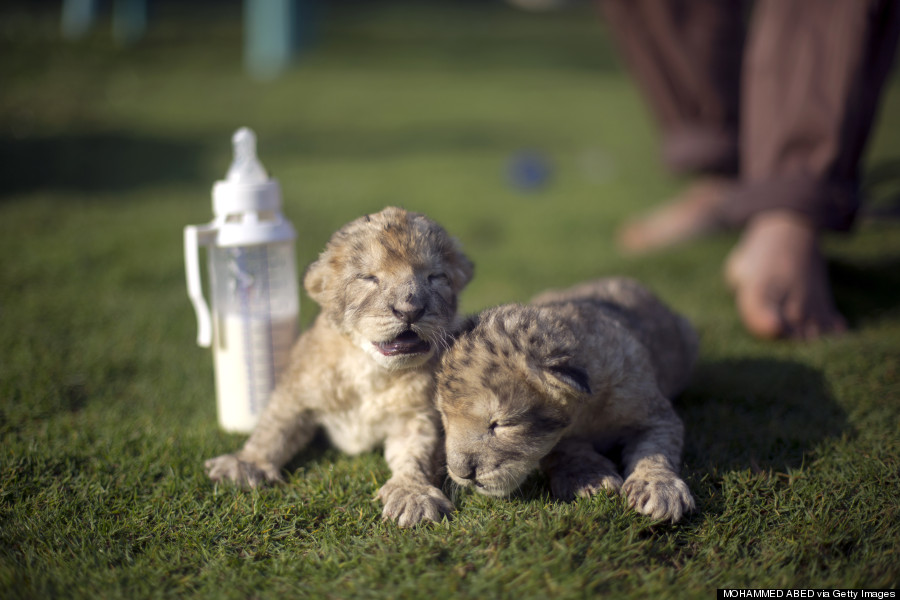 Mohammed Abed/AFP/Getty Images
5. Dewayne Goodface, a Vietnam War veteran from the Lower Brule Sioux Tribe, listens during a Congressional Gold Medal ceremony on Capitol Hill honoring representatives from Native American tribes who fought in World War II using their native languages to encode radio transmissions.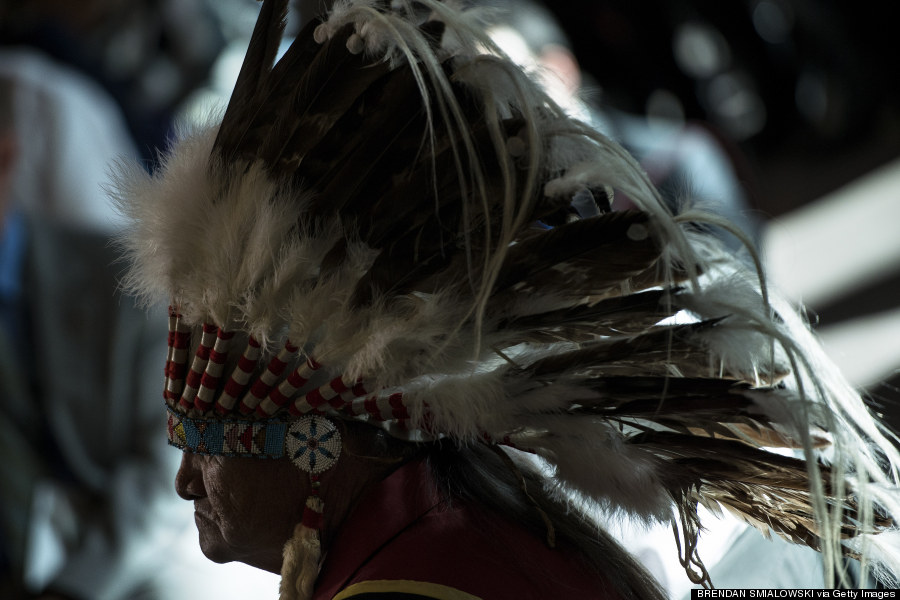 Brendan Smialowski/AFP/Getty Images
6. Entire lives washed away in the devastating typhoon that hit the Philippines in early November. Here, a wedding photograph lays amongst the debris left in the aftermath in the city of Tacloban.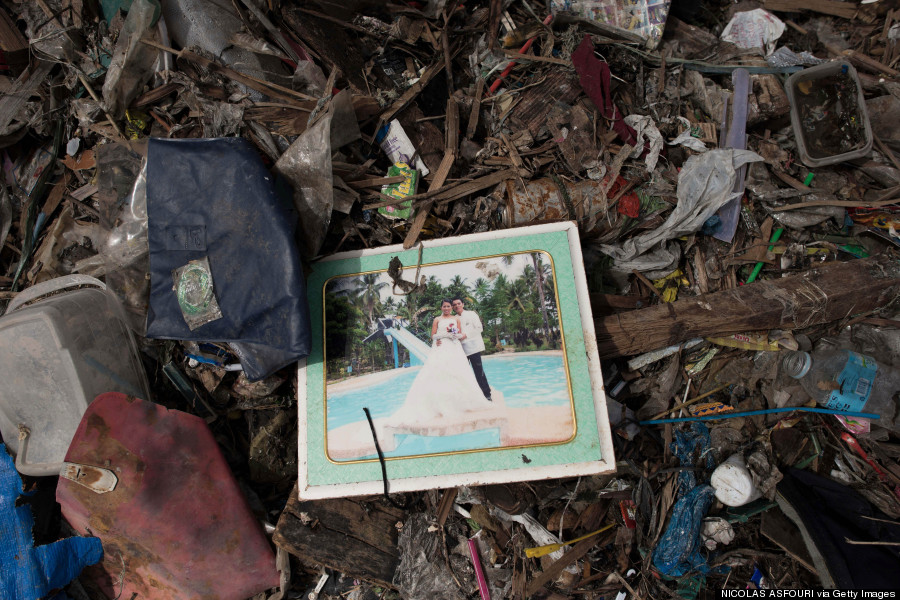 Nicolas Asfouri/AFP/Getty Images
7. Are those people bathing in wine? Why, yes. Bourgogne wine maker Thibault Garin toasts his company's 2013 Beaujolais Nouveau wine with guests in the wine spa at the Hakone Yunessun spa resort, some 100 km west of Tokyo.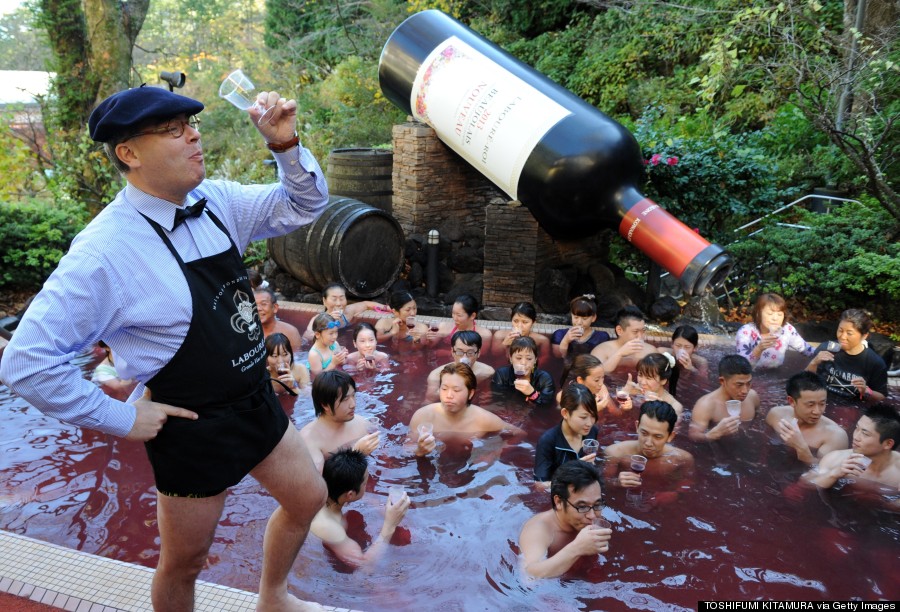 Toshifumi Kitamura/AFP/Getty Images
8. Heavy snow hit northeast China, causing four deaths and seven injuries. These statues in Jilin, China, however, look pretty peaceful with their snow hats on.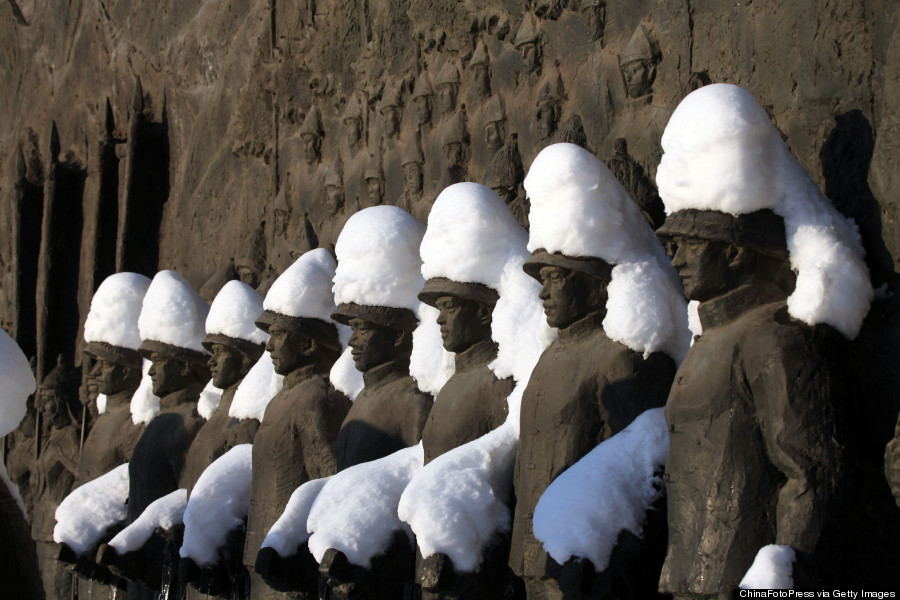 ChinaFotoPress/ChinaFotoPress via Getty Images
9. A French customs officer takes part in a demonstration called by trade unions to protest job cuts in front of the Economics and Finance Ministry in Paris. His sign reads, "2018, a country without customs."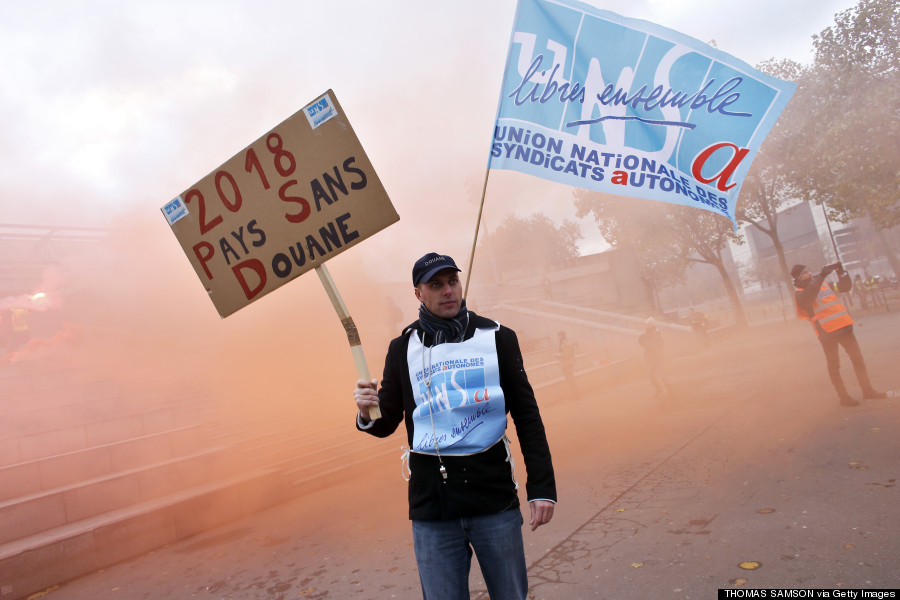 Thomas Samson/AFP/Getty Images
10. The city of Hull, England, has been named the 2017 UK City of Culture, an accolade handed out every four years in hopes of giving the city a cultural and financial boost. This photo captures the quayside and old shipping warehouses next to the River Hull in full gothic beauty.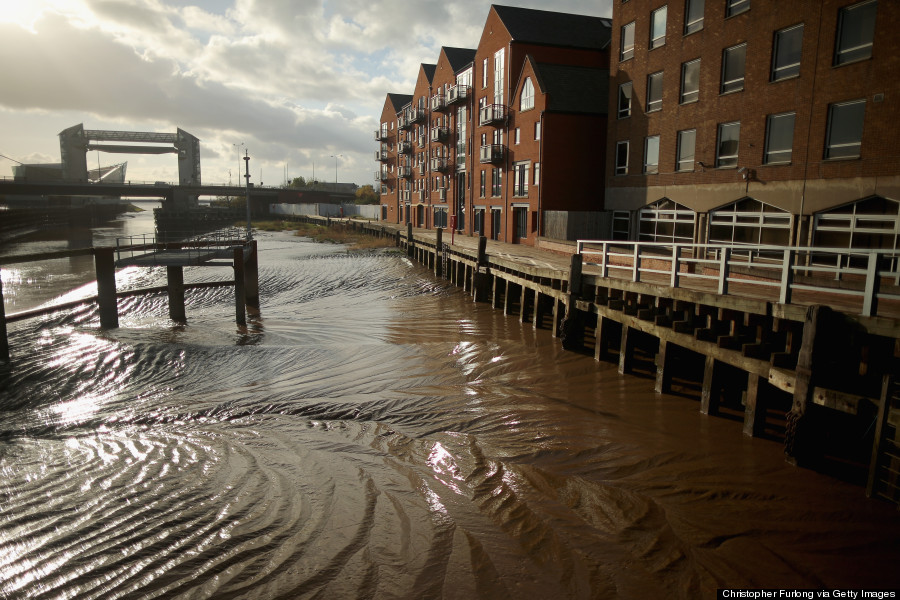 Christopher Furlong/Getty Images