The United Nations has teamed up with producer and DJ David Guetta for its "The World Needs More..." campaign, an awareness stunt that will raise funds for relief efforts.
As part of the event, Guetta's music video for "One Voice" debuted Friday on the side of the UN building. UN Secretary General Ban Ki Moon and Guetta recorded a message for the proceedings.
Fans are directed to post on Twitter and Facebook using a double hashtag: #TheWorldNeedsMore #YourWord. The "YourWord" portion of the hashtag should be replaced with a word one of the following sponsors has chosen: Barclays Bank (#Inclusion), Western Union (#Education), Gucci (#Strength), Crescent Enterprises (#Entrepreneurs), KT (#Dreams), Intel (#Empowerment) and GlaxoSmithKline (#Healthcare) and the Sergio Vieira de Mello Foundation (#Dialogue). Guetta himself has sponsored #Love.
For every tweet, the corresponding sponsors will donate $1 to humanitarian aid. In an interview with HuffPost Entertainment, Guetta said his involvement with the project traces back to World Humanitarian Day, when he allowed the campaign to use another song, "Without You."
"I was very happy to give it to them and it was a very successful campaign, so they came back to me to see if I wanted to be involved in The World Needs More...," Guetta said. "I'm honored to be a part of it. I made a video for a song called 'One Voice' to try and raise awareness for the campaign. I think that it's just wonderful."
The video for "One Voice" will debut on Guetta's Facebook page and the campaign's website. The World Needs More... is a collaboration between the UN Office for the Coordination of Humanitarian Affairs, the UN Foundation, the UN Development Programme and the International Council of Voluntary Agencies.
To celebrate the project, we spoke with Guetta about the song, critics who dismiss him as a sellout and whether or not he'll step back from touring in the near future. An edited transcript of our conversation follows below.
Had you already been working on "One Voice" before this campaign?
I'm actually still working on it! It was already there but it just sounded perfect for what they wanted. It's always like this, though, you know? That's the great part about being a DJ -- I can play the record on Thursday and go back to the studio on Friday.
Do you usually work up to the deadline?
Oh yeah, yeah. [Laughs] Always. I'm not the only one, trust me. I'm also producing for other artists and everyone is the same. We always say that the album is not finished until it's in the shop. We all do this.
Do you think that dance music is getting a little more involved in philanthropy now? There's Dance for Life, Tiesto's involvement with (Red) and your work here.
I think dance music always had a hippy part to the culture, since its beginning. I feel like I'm all about love and sharing my passion, and this is also about sharing and collaborating as one. That's what this campaign is about, so it makes a lot of sense. I don't know, it's kind of natural that dance music would also be part of things like this.
Have you engaged in philanthropy prior to your involvement here?
This is the first time that I've done anything publicly like this, but I'm very happy about it.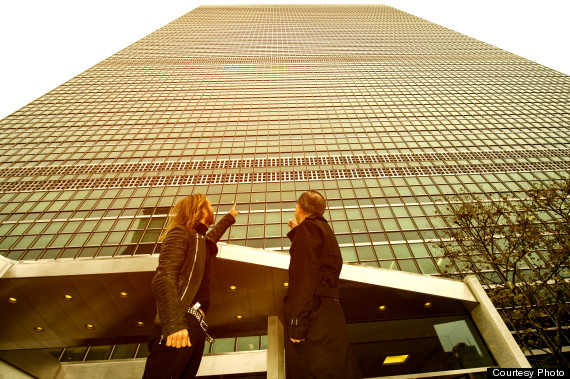 David Guetta and UN Secretary General Ban Ki Moon.
Would you ever start your own foundation?
I guess it's probably easier for me to support people who are doing it right. When I see how amazing their work is, I'm just trying to help and be a vehicle for the information. I don't think that I could do something as amazing as what they're doing. Because I have a very big social media community, I can help show how amazing they are. Even today, just visiting the UN, I've learned a lot about what they're doing here.
Have you had any moments in your wide travels that reminded you of how much of the world lives?
If I'm being very honest, if I play in Brazil and I'm on the way from the airport and I drive through the favelas, it's pretty far. But I have to be honest, even if I'm playing all over the world, I'm going from the airport to the luxury hotel and I don't get to see what is going on and where people live. That's why I did this -- I know it sounds crazy, but it just comes with my job. I'm going everywhere in the world, but I haven't seen everything. So I can't say that my touring has led me to be conscious about what's going on in the world, because that would be a lie. All I can do is try to help the people who are really doing this job.
When did you realize that you were being seen as a pop music producer or as someone who favored commercial sounds?
It's interesting, you see, because I always wanted our music to touch more people. I'm part of the artists that made that happen. Even though we are now one of the popular music movements in the world, it's not exactly just pop music. I don't know how to explain it, but even though at some point, I wanted to just be like, "this is it, this is the new pop music," when I would open for big pop artists at concerts, I would realize that there was a difference. It's different than an electronic festival. If I'm sharing the stage with a big pop star, there is a difference.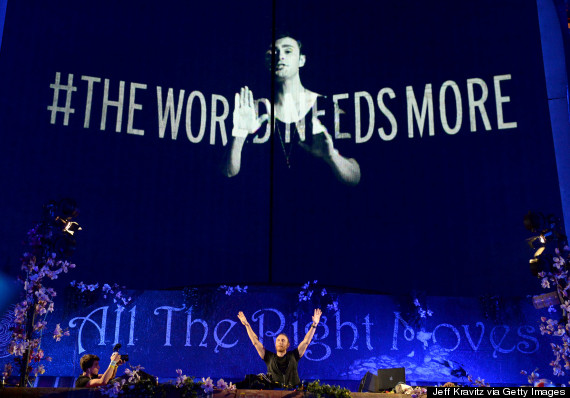 So many people like talking about dance music artists "going pop," but it almost feels more like pop has come to dance music.
Absolutely, absolutely. That's my whole thing, actually. People say a lot of stuff but I was bringing a lot of urban or pop artists into our world. I never felt like I was going into their world.
Do you feel like it's the people who started listening to dance music last year who are most likely to call you a sell-out, but that fans who paid attention since the beginnings of your career as a producer have a better perspective?
Oh my god. [Laughs] You are so right about this. A lot of the younger dance music fans don't have a sense of the culture of where we are coming from and what the history of this music is. So they might misunderstand some of it.
Do you have a very different mentality when you're producing for them than for yourself? Or is it more like you produce, you'll take it to them and if they don't like it you might just use it for yourself?
Usually that's how it works, but there's a difference between whether it's a David Guetta record of I'm producing for an artist. If my name is just in the credits and not as an artist, then I'm kind of just working for the artist. That's what I'm doing -- I could even do something different, because I love music. I don't only love electronic music, I like all of it. But if it's going to be on one of my records, it's going to be different.
What are you looking forward to the most?
Right now I'm looking forward to this project, The World Needs More. I think it's the biggest thing that I've ever done and I'm trying to focus on it. Today I was in the UN and I met with the Secretary General and we recorded a message about the Philippines and for the campaign. This makes me think and step back a little bit from what I'm usually doing, which is just running, running, running. It's just nice to do something a little different and more important than only taking care of my own person and my own music. Even though my music is, of course, making a lot of people happy. But this is bigger.
Do you see yourself touring less in in the future?
I just love touring. It's a lifestyle that I love. I love being in contact with people, that's my motivation for making music and it's my inspiration when I make records. I want to imagine people getting emotional or dancing when I perform. So I don't really imagine just becoming a producer and staying in a studio, because then I wouldn't know what to do.
BEFORE YOU GO
PHOTO GALLERY
Forbes' Highest-Paid DJs Of 2013