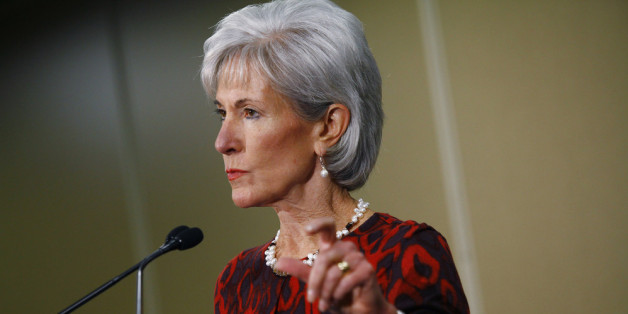 The closely watched Kaiser tracking poll finds bad news for the ACA, but reminds us of similar early reactions to Medicare Part D. Polls chart JFK's legacy. And a local television station takes us inside Quinnipiac's polling operation. This is HuffPollster for Friday, November 22, 2013.
HEALTH CARE LAW RATING DROPS - Kaiser Family Foundation: "Amid heavy news coverage of HealthCare.gov's website problems and stories about individuals being dropped from their insurance plans, the American public's overall views of the ACA took a negative turn in November. This month, roughly half (49 percent) say they have an unfavorable view of the law and a third (33 percent) have a favorable view. In nearly four years of Kaiser tracking on the law, the gap between negative and positive views (currently 16 percentage points) has been this large only once before, in October 2011 (17 percentage points) when the ACA was getting lots of negative attention in the Republican presidential primaries and the country was focused on the upcoming election and the Occupy Wall Street movement...Views of the law shifted more negative this month among most demographic groups, but the drop was sharpest among Democrats. After rebounding in September and October, the share of Democrats viewing the law favorably stands at 55 percent in November, closer to where it had been earlier in 2013." [Kaiser]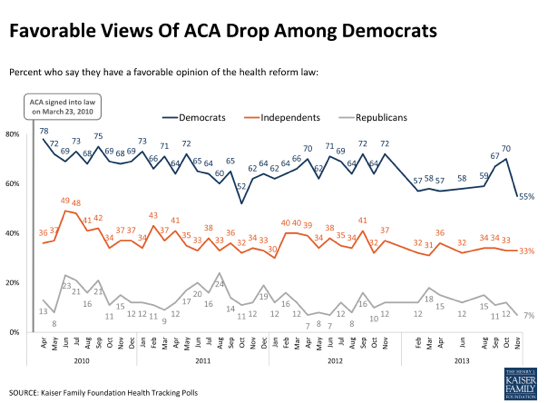 'Lessons from Medicare Part D?' - The Kaiser analysis notes the "similarly rocky launch" of the prescription drug program in 2006: "Among seniors, the program was unpopular at first; 50 percent had an unfavorable view of the program and 28 percent a favorable view in December 2005, just before enrollment began...The latest Kaiser Health Tracking poll finds that seven years later, the Medicare Part D benefit is quite popular: 63 percent of seniors view it favorably and just 14 percent view it unfavorably. Among those who are enrolled in a prescription drug plan, 85 percent say their experiences using the benefit have been positive, including six in ten (59 percent) who say they've been 'very' positive." [KFF]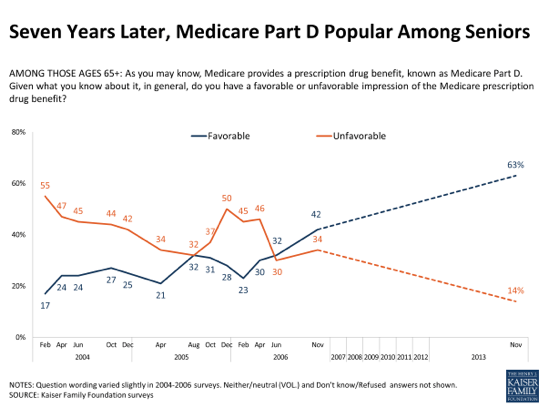 Kaiser offers 'a note of caution' on using polls to assess the enrollment experience - "Several weeks into open enrollment, many people – including journalists, policymakers, and the public at large – are eager for early data indicating how the law is working from the perspective of potential enrollees...The primary issue with trying to assess the early impact of the ACA through national, random sample surveys that use a standard methodology and sample size comes down to raw numbers. There generally just aren't enough people to look at….Another complicating factor in using standard national public opinion polls to measure early ACA impact is that some of the groups most likely to have early experiences with the law, including those with lower incomes and those who speak a language other than English, are populations that are often under-represented in surveys….Another major challenge is designing survey questions that will correctly identify those who actually tried to sign up for coverage through the ACA and what their experiences were….While not a good vehicle for measuring early enrollment experiences, national public opinion polls can provide other types of useful information for those trying to gauge how ACA implementation is going." [Kaiser]
AMERICANS SEE CLIMATE CHANGE AS LINKED TO STRONGER STORMS - Emily Swanson: "Most Americans think climate change, and more frequent and severe natural disasters are linked, according to a new HuffPost/YouGov poll that also finds most think human activity is at least partially responsible for the changing climate. According to the new poll, conducted after Typhoon Haiyan devastated the Philippines earlier this month, 55 percent of Americans think climate change is related to more frequent and severe natural disasters, while only 23 percent do not….In total, 70 percent of respondents said they think human activity is having at least some impact on climate change. But only 34 percent said human activity is the primary cause. Another 36 percent said human activity is not the cause, but contributes to climate change. Only 10 percent of respondents said human activity is not contributing to climate change at all and 9 percent said climate change is not occurring." [HuffPost, YouGov results & crosstabs]
POLLS SHOW KENNEDY'S LEGACY 50 YEARS LATER - HuffPollster: "President John F. Kennedy was generally well-liked by his constituents. Fifty years to the day after JFK's assassination, he is remembered as one of America's greatest recent leaders. Several new polls reveal his legacy both in life and in death, as well as lingering questions about how he was killed….Kennedy boasted a 70 percent approval rating overall, with 64 percent giving him good marks on his handling of foreign policy, and 56 approving of how he addressed domestic problems. Nearly three-quarters of respondents expected him to be reelected….Just under three-quarters of Americans think Kennedy will be remembered as an outstanding or above-average president, according to a Gallup poll, ranking him above every president since Dwight Eisenhower…Sixty-two percent of Americans think Kennedy's assassination was a part of a broader plot, a Washington Post/ABC News poll finds, while just 29 percent think he was killed by one man. The doubts don't stop there: 62 percent also suspect there was an official cover-up of the truth." [HuffPost]
Charting Kennedy's approval during his presidency - Charles Franklin maps Kennedy's ratings against high-profile news events of the time. His numbers has dropped in the months prior to his assassination, although they remained well over 50 percent. [@pollsandvotes]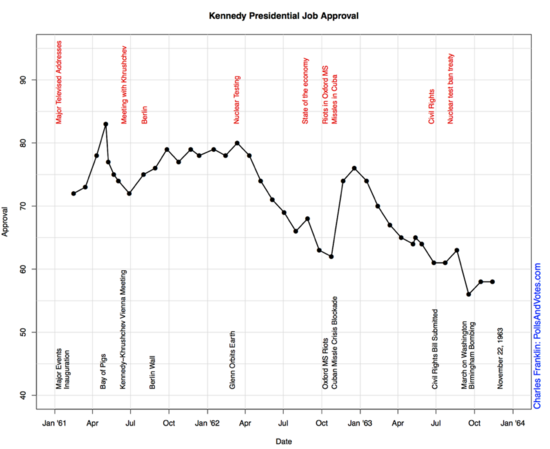 Kennedy's death a major part of his legacy - Marist: "[W]hen it comes to Kennedy's legacy, most Americans say, fifty years from now, Kennedy will be remembered for his assassination and not his accomplishments while in office. More than seven in ten adults nationally — 71% — report Kennedy's death will be his legacy while 24% think the president's initiatives will be thought of as the highlight of his administration. Five percent are unsure...When asked which tragic event was the most significant for people living at the time, nearly half of Americans — 49% — report the September 11th terrorist attacks were the most impactful event to have occurred. 36% report Pearl Harbor was the most significant while 13% report President Kennedy's assassination was the most consequential. One percent says the explosion of the Space Shuttle Challenger was the most significant. Two percent are unsure." [Marist]
Little consensus on conspiracy theories - CNN: "Poll respondents were asked whether they believe the CIA, the Mafia, Cuba, the Soviet Union and/or then-Vice President Lyndon Johnson were involved. The top suspects, in the minds of the American public, are the CIA and the Mafia. One-third of all Americans believe the CIA was part of a plot to kill JFK. Thirty percent believe the Mafia was somehow involved. Cold War enemies Cuba and the Soviet Union aren't suspected quite as much. Twenty-two percent of Americans believe Moscow was somehow involved, while 20% point the finger at Fidel Castro's regime in Havana. As for LBJ, twenty-one percent of Americans believe Kennedy's vice president – and successor – played a role in his death." [CNN]
'A View From The Band' -John Sparks, the Marist Poll's senior website editor, shares his recollection of playing in a Fort Worth high school band for JFK on the morning of November 22, 1963. [Marist]
INSIDE QUINNIPIAC - New Haven's WTNH News 8 takes its video cameras inside the Quinnipiac Poll's call center: "Over the past two decades it can't be argued that the Quinnipiac Poll has added to the university's national prominence. The school's polling institute is a huge operation employing more than 150 people...'We pay attention to the details, getting a good sample, asking good questions, doing good analysis, being timely,' said Doug Schwartz, Director-Quinnipiac University Poll...Collecting accurate data is a process managers say it could take up to 15,000 phone calls to generate 1,000 completed surveys. Why so many calls, what directors call 'bad numbers' from businesses, fax machines or disconnected numbers.'We don't use phone books, with phone books you miss the unlisted, so we have to randomly generate the phone numbers,' said Schwartz." [WTNH]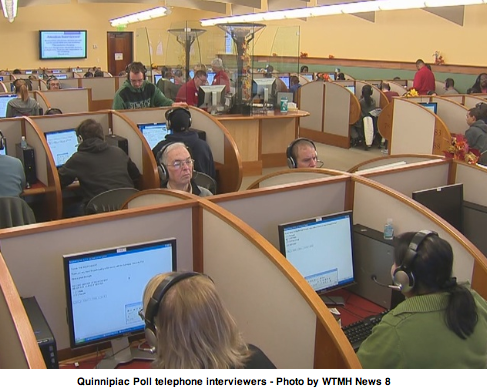 HUFFPOLLSTER VIA EMAIL! - You can receive this daily update every weekday via email! Just enter your email address in the box on the upper right corner of this page, and click "sign up." That's all there is to it (and you can unsubscribe anytime).
FRIDAY'S 'OUTLIERS' - Links to more news at the intersection of polling, politics and political data:
-Sen. Kay Hagan's approval rating stays steady, but her disapproval rating jumps. [Elon]
-Ron Brownstein explains the gap between Americans who buy stock and those who don't. [National Journal]
-Nate Cohn thinks Republicans will have a hard time winning a presidential election in Florida without more Latino votes. [New Republic]
-Charlie Cook says "the ingredients necessary for a political explosion are in place," but that lack of credible to challenge to most Congressional incumbents means "the bomb is unlikely to explode." [National Journal]
-Joel Benenson (D) urges Democrats to focus on the economy. [Politico]
-WPA Opinion Research (R) finds the 2012 election would have had a different outcome if voters knew some health care plans would be canceled under the ACA. [WPA]
-Civis Analytics (D) posts an interactive, thematic map showing demographic and political data for every media market in the U.S. [Civis]