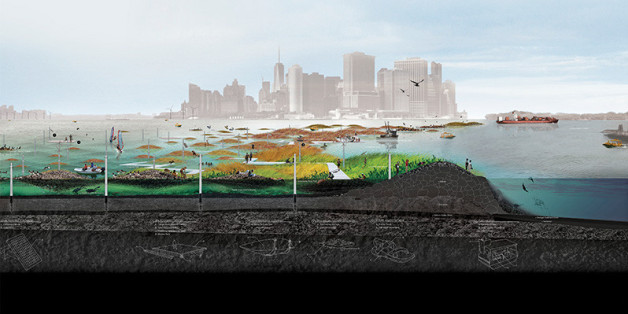 By Sarah Engler
To most of us, they symbolize decadence and indulgence --next to a glass of Champagne, lounging on a bed of ice -- but to Kate Orff, oysters are more valuable when they're alive and hard at work. In fact, Orff, the founder of an environmentally focused landscape architecture firm called Scape, has tapped the hardy mollusks for a big new job: revitalizing New York City's troubled waterways.
The "marine gardening project" Orff calls Oyster-tecture takes advantage of the oysters' built-in filtration system (they pump large volumes of water through their bodies, extracting nutrients and nitrogen pollution). By constructing underwater reefs made in part with layers of rope, Orff, 41, plans to create structures where millions of oysters and blue mussels can settle in and conduct their business. (An adult oyster can process up to 50 gallons of water a day.)
Last year Orff and her team held their version of a knitting party, weaving rope floors for a pilot project in Brooklyn's Gowanus Bay, a longtime dumping ground for toxic chemicals from nearby factories and plants -- and a catchall for human waste when heavy rains overwhelm the sewer system. She'll evaluate the water quality in two years; if all goes according to Orff's plan, the city will eventually green-light her proposal for a 200-acre marine park in New York Harbor.
Over a few decades, she predicts, the harbor's water quality would greatly improve, creating better habitats for wildlife; the reefs the oysters form could also weaken waves and minimize the damage from storm surges. What's more, one day the oysters could be perfectly edible -- maybe even turning New York back into a destination for the delicacy. ("Instead of hot dog stands, oyster carts used to line the streets of Manhattan," Orff says.)
In the meantime, Orff is fielding inquiries from China and Europe about implementing Oyster-tecture. Once the structures are in place, the oysters will just do their thing.
BEFORE YOU GO
PHOTO GALLERY
Amazing Sea Creatures