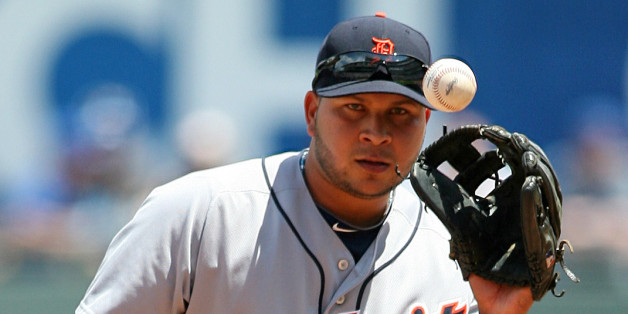 Arizona Diamondbacks reliever Brad Ziegler doesn't seem very pleased with the St. Louis Cardinals' reported deal with free agent shortstop Jhonny Peralta.
Citing an unnamed source, Jon Morosi of Fox Sports 1 reported early on Sunday that the Cardinals were nearing an agreement on on "a four-year deal worth a little more than $52 million" with Peralta. Major League Baseball suspended the 31-year-old for 50 games during the 2013 season over using performance-enhancing drugs. After ESPN's Jim Bowden tweeted that the deal had been agreed to, Ziegler ripped Peralta and the Cardinals.
It pays to cheat...Thanks, owners, for encouraging PED use

"@JimBowdenESPNxm: Peralta - Cards agree to 4-year deal: http://t.co/rkpdAO3QaL"

— Brad Ziegler (@BradZiegler) November 24, 2013
People really don't understand how this works. We thought 50 games would be a deterrent. Obviously it's not. So we are working on it again.

— Brad Ziegler (@BradZiegler) November 24, 2013
Just trying to make our game better when I leave it than it was when I got into it. Don't have all the answers, but trying, & MLBPA knows...

— Brad Ziegler (@BradZiegler) November 24, 2013
Peralta's reported agreement with the Cardinals came just days after Ted Berg of USA Today wrote that if the league wants to be serious about taking PEDs out of the game, teams should be disciplined too.
If Major League Baseball is serious about ridding the game of PEDs, sanctions should not stop with the players. Punishing teams, too, would help disincentivize juicing from an organizational standpoint and make clubs more vigilant in deterring PED use.
Ziegler was one of the many players to share his distaste back in August for the players suspended as part of MLB's investigation into Biogenesis, an anti-aging clinic in Florida accused of peddling PEDs. So was Mike Trout, who suggested that there should be stricter penalties for players who get caught using PEDs.
"To me, personally I think you should be out of the game if you get caught. It takes away from the guys that are working hard every day and doing it all-natural," Trout said.
BEFORE YOU GO
PHOTO GALLERY
2013 MLB Season Highlights