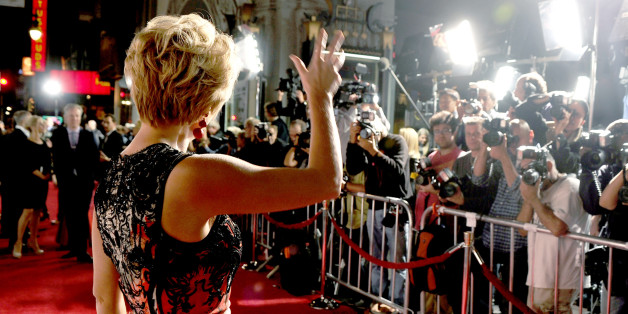 The pressure on fashion models to stay fit, slender and blemish-free affects the models themselves as well as the "normal" women who see their bodies every day in photos.
But as Emma Thompson points out in a new interview, it also affects Hollywood actresses. Thompson, beloved for her roles in movies like "Sense and Sensibility," the "Harry Potter" series and our personal fave, "Love Actually," spoke to the Telegraph about the high expectations in place for young female actresses these days. "It seems young actresses are under pressure to look a particular way," she said, adding:
"They look the same, that's the thing. And they're all being Photoshopped in adverts for all sorts of [products], so maybe that's difficult as well -- because you've got pictures of yourself looking perfect. They have to be this specific model size, and if they get on to the red carpet, they're all having to walk like models and dress like models. I think the pressure is terrible."
At 54, Thompson says, her issue is less body size and more finding quality acting roles in the first place. But she's long critiqued the body standards actresses face -- and the problem she identifies is a real one. Actresses like Christina Ricci, Portia de Rossi, Jamie-Lynn Sigler and Kate Winslet have all admitted to struggling with body image issues, and music stars like Demi Lovato have also battled their own disorders.
The pressure is greatly connected to the shift to put celebrities on magazines covers instead of models, a change ushered in by Anna Wintour at Vogue. As actress Busy Phillips lamented just this year:
"13 years ago, every cover of every magazine wasn't actresses, it was mostly models and then actresses would be featured inside. And now every actress is expected to also be a model."
The result is an unfortunate domino effect: Models set the standard of an unrealistic body type in the name of fashion... then celebrities strive to look like the models they've replaced on the magazines... and then "real" women strive to look like the celebrities.
Perhaps outspoken words from more actresses like Thompson, not to mention models like Crystal Renn and regular girls like the teen advocates fighting Photoshop at Teen Vogue and Seventeen, can jumpstart a change in the domino effect.
Women we love:
PHOTO GALLERY
Women Who Defy Conventional Body Types In Hollywood
Want more? Be sure to check out HuffPost Style on Twitter, Facebook, Tumblr, Pinterest and Instagram at @HuffPostStyle.