Viewers went into a frenzy last night (Nov. 24) after noticing that Justin Timberlake's wife, Jessica Biel, was not by his side at the 2013 American Music Awards, taking to Twitter to create rumors about her whereabouts.
But Mrs. Timberlake set the record straight, posting a short and sweet message about her AMAs absence.
I'm watching from home tonight. Calm down, Internet.

— Jessica Biel (@JessicaBiel) November 25, 2013
There you have it -- famous people watch awards shows from their couches, too.
Rumors started flying last night after Timberlake won the award for Favorite Pop/Rock Male Artist, which was presented by Taylor Swift. As JT took to the stage to accept his trophy, he turned to Swift and said, "Taylor, you look lovely tonight." And fans obviously overreacted since Biel was nowhere in sight.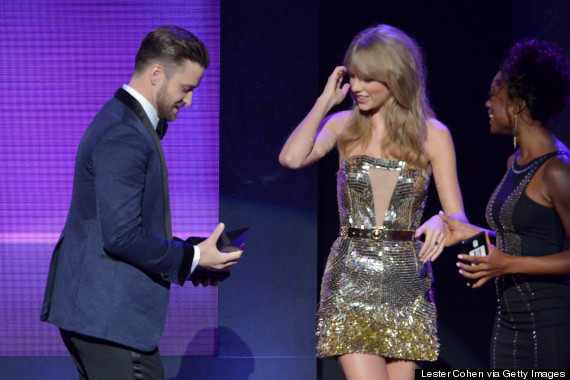 The difference between all the people who hate on @JessicaBiel & Jessica Biel is that she is the one married to JT. Keep being jealous.

— StrawberryBubbleBeth (@cubshawks88197) November 25, 2013
But all is well in the Timberlake household as the "Suit & Tie" singer tweeted this shortly after being called the AMAs "king" by Complex magazine (Well, he did win soul/R&B artist and soul/R&B album, too):
"@ComplexMag: Justin Timberlake is a king. #AMAs" 🙏 Thank you for the shout-out! I'm currently at home taking the trash out. #LikeAKing

— Justin Timberlake (@jtimberlake) November 25, 2013
So to clarify, Jessica likes to be a couch potato sometimes and Justin takes out the trash. Yup, they're just like us.
BEFORE YOU GO
PHOTO GALLERY
The Stunning Jessica Biel