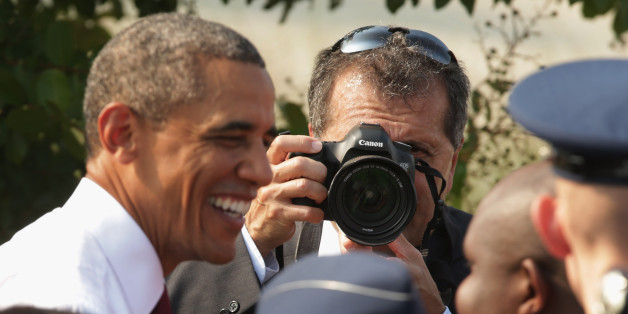 USA Today and the Tacoma News Tribune are refusing to publish White House handout photos in protest of restrictions on press access.
The decision comes after 38 news outlets protested White House limits that often prevent journalists from taking photos of President Obama in a letter on Thursday. Reporters raised the issue again in a press briefing last week, arguing that independent photographers play a different role from White House photographers. The clash between the media and the administration over the issue has continued to escalate.
Now, USA Today has said that it will not publish photos released by the White House. In a memo to staff on Sunday, deputy director of multimedia Andrew P. Scott said the news organization will not use "handout photos originating from the White House Press Office, except in very extraordinary circumstances." The exceptions would involve "legitimate national security restrictions" or "very high news value."
The News Tribune, based in Tacoma, WA, announced the same decision on Monday. Karen Peterson, The News Tribune's executive editor, told staff, "From now on, we won't publish White House handout photos of events that should have been open to news photographers, even if that means going without a photo. As the protest letter said, closing the door to the press gets in the way of "the public's ability to independently monitor and see what its government is doing."