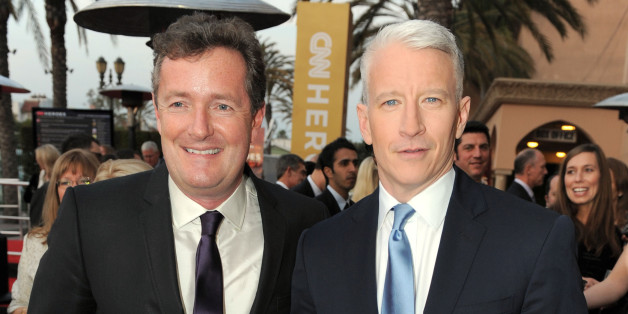 There's one duo at CNN with reason to brag.
"Piers Morgan Live" and "Anderson Cooper 360" bring in a higher concentration of female viewers than all other primetime programs on CNN, MSNBC and Fox News.
Indeed, "Piers Morgan Live" has a viewer profile made up of about 56.4% females, a 2013 study performed by the media planning firm Carat found. "Anderson Cooper 360," also on CNN, is right behind Morgan with a concentration of female viewers of 54.7%.
The study, which looked at regularly scheduled primetime shows on Fox News, MSNBC and CNN from January 1, 2013 through November 11, 2013, found that while Morgan and Anderson's shows do not have the highest number of female viewers overall, they do have the highest concentration of them.
In other words, a greater percentage of Morgan and Cooper's audiences consist of women than men, but shows like Fox News' "Kelly File" and MSNBC' "Rachel Maddow" both bring in significantly higher numbers of women in total. "Piers Morgan Live" brought in only 330,000 total female viewers between September 30 and October 27 while "Kelly File" saw numbers reaching 1.15 million.
Rachel Maddow appears to be dominating the male viewership game, with 53% of her audience made of up men.
BEFORE YOU GO
PHOTO GALLERY
Anderson Cooper Through The Years