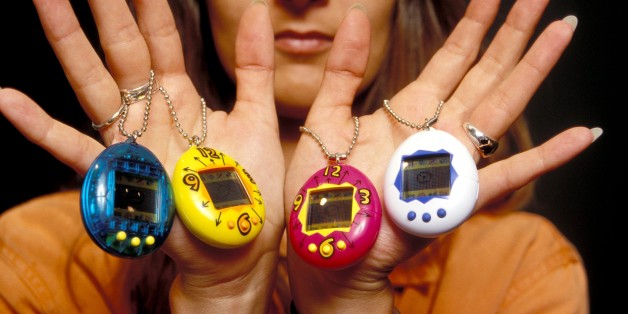 Ready for some '90s nostalgia? Stay tuned: Tamagotchis, the tiny plastic pocket pets popular 17 years ago, are getting a reboot from Bandai, the Japanese toymaker and original creator of the obsession.
According to Pocket Lint, the decision to revamp the Tamagotchi franchise was prompted by the success of the Tamagotchi app for Android and iOS; the smartphone version of the '90s-nostalgia toy was downloaded more than 2.5 million times within 90 days of its initial release in February 2013.
But before you start imagining yourself holding a happy blob again, know that the Tamagotchi toy you remember has gotten a few updates. Most notably, the Tamagotchi pet is no longer a shapeless creature; instead, in Bandai's reboot, there will be several varieties of "Tamagotchi Friends" to choose from, each with a cute name (Patitchi, Memetchi) and unique appearance and character traits.
Like the Tamagotchi pets in Bandai's 2004 Tamagotchi Connection toy line, the Tamagotchi Friends will be able to play with each other when owners bump their devices against each other; they can even exchange presents and have tiny "Tama-babies."
Now, the new Tamagotchis can live in a virtual world called "Dream Town" where the Tamagotchi Friends can interact online (the unfinished Dream Town can be found here). Bandai is also producing a series of Tamagotchi minigames and an animated web series, "Tamagotchi Friends," to tease the release of the new Tamagotchi line.
Watch the first episode on the Tamagotchi Friends website.
Given these modern updates to one of the biggest toy trends of our lifetimes, the Tamagotchi Friends reboot seems intended to turn the lucrative Tamagotchi toy into just one piece of a larger multimedia franchise, much like Hasbro did with the My Little Pony toy when it created the larger My Little Pony media franchise in the 1980's, but with the expanded possibilities brought by today's latest technology.
Leveraging popular products into a larger business by combining toy lines and media franchises is nothing new for Bandai. The Japanese conglomerate currently produces all licensed merchandise for popular children's television shows "Ben 10" and "Power Rangers."
Unfortunately for those hankering for the new Tamagotchi toys right now, the Tamagotchi Friends devices won't be available in the United States until Autumn 2014.
Bandai's English website for Tamagotchi Friends is still under construction, but you can check out its current incarnation here.