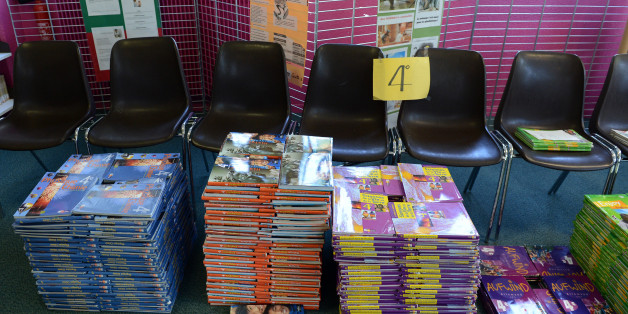 Legislation introduced in Congress could make buying expensive textbooks a thing of the past.
The bill sponsored by by Sens. Dick Durbin (D-Ill.) and Al Franken (D-Minn.) would create a grant program for colleges and universities to "create and expand the use of textbooks that can be made available online" and offered with free access to the public. Students -- and anyone else for that matter -- would have access to digital textbooks and not be bound to buying the latest edition stocked in a campus bookstore.
The bill, named the "Affordable College Textbook Act," was filed by Durbin and Franken earlier this month. A complementary bill was drafted in the House by Reps. Rubén Hinojosa (D-Texas) and George Miller (D-Calif.).
Durbin cited the success of a $150,000 grant to the University of Illinois for its Open Source Textbook Initiative. Thanks to the grant, UI faculty were able to develop a book that's available to anyone for free and can be updated when new information becomes available. Similar results were achieved at the University of California-Davis as a result of a $250,000 grant from the National Science Foundation.
"This bill can replicate and build on this success and help make the cost of attending college more affordable," Durbin said in a statement.
One of the problems with traditional textbooks is that an added chapter can render an edition worthless, preventing students from saving money by buying used copies.
The cost of college textbooks increased 812 percent since 1978, or three times the rate of inflation, according to data from the Census Bureau and the Bureau of Labor Statistics analyzed by University of Michigan economist Mark Perry. A Government Accountability Office report found college textbook prices went up 82 percent in just the past 10 years.
As a result, seven out of 10 undergraduates admit to skimping out on purchasing at least one textbook, according to a 2011 survey by the U.S. Public Interest Research Group.
The legislation also calls for a report from the U.S. Department of Education to the Senate's education committee by mid-2016 detailing adoption of open textbooks and how much it saves students. By July 2017, the Comptroller General of the United States would have to submit a report on what has caused changes to price of college textbooks and the impact open textbooks would have on the cost of regular, traditional ones.
"The dirty secret about textbooks is that they don't have to be so expensive given the rise of technology," said Matthew Segal, co-founder of OurTime.org, which endorses the bill. "Even worse, if you put textbook debt in larger context with student debt, the affordability of college is becoming less and less tenable, and, as a result, the American dream is becoming more difficult for the next generation to attain."
BEFORE YOU GO
PHOTO GALLERY
Tips For Better Studying Habits