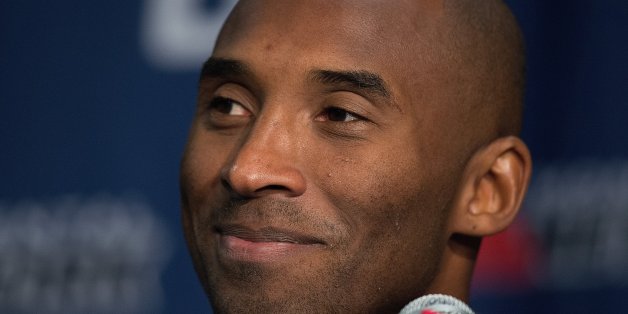 In response to criticism of the two-year contract extension worth nearly $50 million he signed with the Lakers, Kobe Bryant defended his deal and fired back at the NBA's current contract climate. Bryant had been criticized for caring more about money than winning a sixth NBA title.
In an interview with Adrian Wojnarowski of Yahoo! Sports, the 35-year-old explained his stance and defended his contract.
"Most of us have aspirations for being businessmen when our playing careers are over. But that starts now. You have to be able to wear both hats. You can't sit up there and say, 'Well, I'm going to take substantially less because there's public pressure, because all of a sudden, if you don't take less, you don't give a crap about winning. That's total bullshit," Kobe told Wojnarowski. "I'm very fortunate to be with an organization that understands how to take care of its players, and put a great team out on the floor. They've figured out how to do both. Most players in this league don't have that. They get stuck in a predicament – probably intentionally done by the teams – to force them to take less money. Meanwhile, the value of the organization goes through the roof off the backs of their quote, unquote selfless players. It's the most ridiculous thing I've ever heard."
It didn't end there. Bryant, who Wojnarowski described as "raging over the response to his contract extension," also defended his position on Twitter and took a shot at the salary cap rules implemented after the lockout.
The cap rules players have to be "selfless" on To "help" BILLIONAIRE owners R the same cap rules the owners LOCKED US out to put in #think

— Kobe Bryant (@kobebryant) November 27, 2013
Don't just learn ur sport .. Learn the sports industry #futureathletes

— Kobe Bryant (@kobebryant) November 27, 2013
Btw lakers have max cap space and then some #mitchissharp #bussfamsharp #lakers

— Kobe Bryant (@kobebryant) November 27, 2013
As for Lakers general manager Mitch Kupchak, he thinks it was a fair deal.
Mitch Kupchak on Kobe: "Obviously, he took a pay cut. A substantial pay cut ... (It was) fair on both sides. We're comfortable."

— Dave McMenamin (@mcten) November 26, 2013
BEFORE YOU GO
PHOTO GALLERY
101 NBA Posterizations