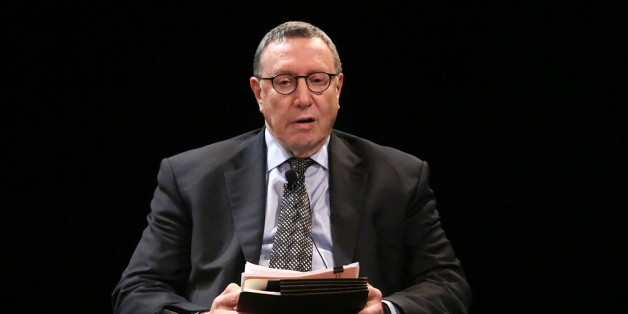 NEW YORK -- On Tuesday night, the Committee to Protect Journalists honored four individuals with the organization's 2013 International Press Freedom Awards: Egypt's Bassem Youssef, Turkey's Nedim Şener, Ecuador's Janet Hinostroza and Vietnam's Nguyen Van Hai, a blogger who remains in prison.
The honorees' stories were both inspiring and harrowing, and the annual dinner raised money for CPJ and awareness of the ordeals journalists face around the world.
But the black-tie event, held at the Waldorf Astoria hotel in New York, was not without some media drama. Its scheduled host, CBS News' Lara Logan, did not appear, after an announcement by the network that she had been ordered to take a leave of absence following an internal review of her discredited "60 Minutes" report on the September 2012 Benghazi attack that killed four Americans.
CBS News anchor Scott Pelley, who filled in as host for the evening, did not discuss the controversy. But another journalist took the opportunity to defend the "60 Minutes" star on stage.
Norman Pearlstine, who recently left Bloomberg News to become chief content officer at Time Inc., said that Logan "has been a valuable member of the CPJ board" and "her body of work has included a willingness to put herself in harm's way to get a story."
"I'm one of those who simply hopes that people recognize what an extraordinary career she has had," Pearlstine said.
Then Pearlstine -- a former top editor at the Wall Street Journal who was on stage to introduce Paul Steiger, who held that job before him -- waded more deeply into the controversy by suggesting that Logan's editor is ultimately responsible for the Benghazi report.
"I tend to think that more often than not it is really the editor, sitting behind the desk directing the reporter, who is more at fault and more to blame than the reporter," Pearlstine said.
"We, as editors, tend to be quite schizoid in our work," he continued. "We encourage reporters to take extraordinary chances, to bring their passions to their work, and then we present ourselves as that last bastion between the journalist who's been in the field, doing the job, and the reader or viewer. And it is often a very difficult task when a story gets an extraordinary head of steam to stop it, and yet that, quite often, is really the way that editors do protect journalists. "
Max McClellan, Logan's producer on the story, was also ordered to take a leave of absence on Tuesday.
Jeff Fager, the executive producer of "60 Minutes," said in a Tuesday staff memo that he is "responsible for what gets on the air."
But Fager -- who also serves as CBS News chairman and thereby oversees the "60 Minutes" executive producer, in this case himself –- was not punished for the report, which aired Oct. 27. The broadcast prominently featured discredited Benghazi "witness" Dylan Davies, included several factual errors and failed to disclose that Davies' memoir had been published by a CBS subsidiary.
Fager continues to hold both high-ranking positions at the network, but the "60 Minutes" debacle has raised questions about whether there can be real accountability for what gets on air while he's wearing both hats.