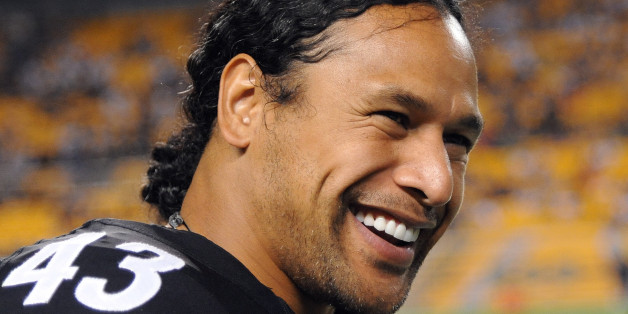 Troy Polamalu, 32, has reached the zenith of pro football. The former USC standout is a two-time Super Bowl champion, a seven-time Pro Bowler at strong safety, and was the NFL's Defensive Player of the Year in 2010. He has also been a champion for our veterans, a calling he says is a "life passion" that feels "very natural." Most recently, he cut his hair to benefit the Veterans of Foreign Wars. Polamalu said that in his house, "Our children don't call people in the Armed Forces 'veterans,' they call them heroes."
The California native took a moment to talk with The Huffington Post about his future in the league, why he doesn't plan to adapt his playing style to league rules and the maturation process of teammate Ben Roethlisberger. (This interview has been edited and condensed.)
The NFL has done a great deal to improve the safety of pro football. Has it done enough?
I don't know. This game, by nature, is a very physical game. The more and more you remove that physical nature of the game, the less of this game [is like the one] that we all fell in love with and had a passion for. I think the beautiful thing about football -- for example, a receiver comes across the middle of the field, he's got a certain level of fear that he's got to overcome. You take that certain aspect of fear away from people -- that hesitation, for example -- I mean, that can be the difference between winning and losing games. That's why Hines Ward was my most favorite receiver ever to play this game ... He wasn't scared ... I think when you remove that physical nature of this game, you start to make this game for everybody, which it's not.
With that in mind, have you noticed that guys are less fearful, particularly the receivers?
Um, I don't know. I really don't know ... There's some guys out there who really don't care: the Anquan Boldins, the Hines Wards, those guys who are just very physical receivers. But yeah, I'm not sure?
Do you ever see defensive players who, with the speed of the game, cannot stop themselves from making illegal hits, even if they wanted to?
Yeah, for sure. I've been put in those situations several times, but you try your best to make a conscious decision. Sometimes it may be an opportunity to dislodge a ball from somebody. Maybe seven or eight years ago, they wouldn't have called that. Since I've been in the league, there's been a lot of change, more than any decade probably.
(HuffPost also discussed the speed of the game and the rules changes with Chicago Bears' two-time All-Pro cornerback Charles Tillman, who said, "Once the right offensive player, a high-caliber player on offense -- if he does get hurt, I think that issue will get addressed ... I think the game is so fast that guys can't hold up. ... There are some instances where you've already committed, and you launch and you have a pretty good target area, but he moves or somebody else hits him and it changes his path ... It changes so quick and so fast. I think that's the frustrating part about the NFL, which a lot of guys don't agree with.")
Polamalu tells HuffPost, "When you remove that physical nature of this game, you start to make this game for everybody, which it's not." (Getty Images)
With the league's drastic rule changes, especially on the defensive side, have you had to change your aggressive style?
No, if I changed my style, then I wouldn't be me. You can only play this game for so long, but when your body doesn't allow you to recover in time or be able to make the plays that you've made made in the past, then I think it's time.
Do you think about how much longer you want to play in the NFL?
No, I've been asked that question several times, and my response is always, "When you live day to day, it's hard to talk years."
Are you surprised with the success Pete Carroll, your college coach at USC, has had in Seattle?
Absolutely not. It's always been a joy to play for Coach Carroll and even to see him around whenever I do see him. He's a very enthusiastic coach. He coaches football the way it should be taught. He loves life: Football is a part of his life, and in that way he enjoys and loves football, as well.
Your quarterback, Ben Roethlisberger, is a pretty polarizing figure who has had several issues off the field. How much has he grown as a person over the years?
A lot. He's married, he's got a first-born son, Benjamin. His wife is pregnant now. Having children, being married definitely changes you a lot.
What will you remember the most about your career?
You know, I just think the everyday locker room life. Having guys come from different universities and high schools and different parts of America ... Here I've been getting together with guys for 10 or 11 years, and you're going through a lot of different changes in life -- whether it's starting a family, whether it's being really alone and being self-dependent -- so you go through a lot, your life experiences you share with one another. To me, that's the things that I'll remember more than any Super Bowls or anything like that. Obviously those things are fun, and even amidst adversity, as we're facing now, you just continue to rely on one another whether you're winning or losing.
Email me at jordan.schultz@huffingtonpost.com or ask me questions about anything sports-related at @Schultz_Report and follow me on Instagram @Schultz_Report. Also, be sure and catch my NBC Sports Radio show, "Kup and Schultz," which airs Sunday mornings from 9-12 ET.