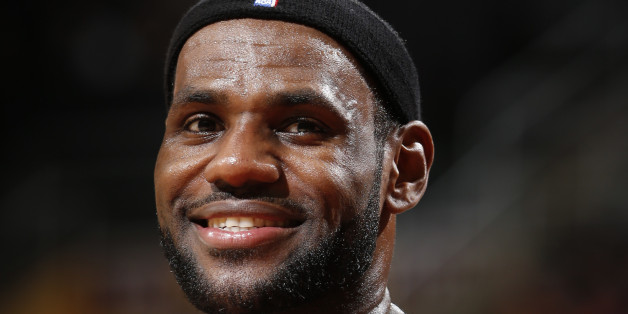 Three years after having their hearts broken on national television, some Cleveland Cavaliers fans are feeling the spirit of forgiveness. Before LeBron James took on his former team on Wednesday night in Cleveland, some Cavs fans passed around and shirts that said, "Come Home LeBron" on the front.
The fans who created the shirts made a website as well that included this statement:
Our goal is very simple: To show LeBron that some attitudes in Northeast Ohio have changed. Many of us who felt betrayed and scorned are turning and we are open to having him come back. It's not an expectation that he comes back…it's to show that the masses don't all feel the hatred that was portrayed before.

Is it everyone? Absolutely not. We respect that a lot of people still have tough feelings about the whole Decision and its aftermath. Some never stopped being a fan of LeBron and others have let time heal their wounds. We want to win and we know that LeBron probably does want to win for Cleveland.
Quicken Loans Arena looked somewhat different than when James played their for the first time in a Miami uniform.
Remember the "Come Home LeBron" T-shirts that I mentioned today? pic.twitter.com/ZzAYa75MsW

— Doctor NBA (@DoctorNBA) November 28, 2013
Cleveland Cavaliers fans pass out "Come Home LeBron" t-shirts. pic.twitter.com/2GniA4azPG

— Bleacher Report (@BleacherReport) November 28, 2013
"Come Home LeBron" T-shirts being handed out outside the arena. LeBron said he was flattered. #Cavs pic.twitter.com/6u6XYuCvyh

— M.S. Boyer/J. Valade (@PDcavsinsider) November 28, 2013
Three years after "The Decision," after the boos, the signs mocking him and the burning of his jersey, LeBron was flattered by the Cavs fans' gesture.
"It's not for me to really comment on or really get too caught up in it," James said after Miami's win, per Shandel Richardson of the Sun Sentinel. "Like I said, it's humbling. It's flattering to know that you have fans everywhere. I'm grateful for that."
BEFORE YOU GO
PHOTO GALLERY
2013-14 NBA Highlights