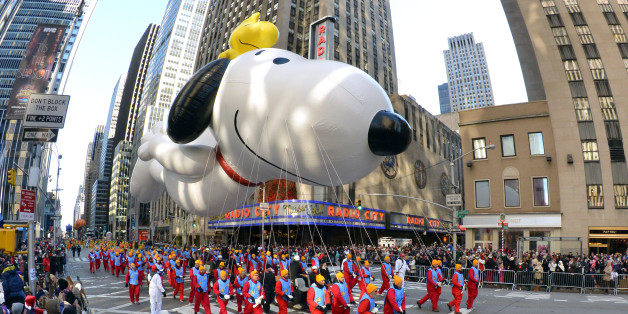 By Michael P. Ventura, Mathew Katz and Ben Fractenberg
MIDTOWN - Spider-Man, Snoopy and all the other famous balloon characters will take flight Thursday in Macy's 87th annual Thanksgiving Day Parade.
High winds had threatened to keep the balloons grounded, but by Thursday morning the gusts had died down.
"Let the balloons fly!" Macy's tweeted.
City officials warned that winds could have forced the parade's iconic balloons to fly lower than normal -- or not to fly at all.
Forecasters had originally predicted strong winds -- with gusts of over 34 miles per hour -- that would have exceeded the city's limits for flying balloons. 
The Humphrey family, who traveled to the city from Charlotte, N.C. for the parade, was thrilled as the balloons drifted past.
"It's amazing, this one's on my bucket list," said Marie Humphrey, 42, as her 8-year-old daughter Emerson marveled at a Hello Kitty Balloon.
The balloons weren't the only attraction: fashion guru Richard Simmons also brought his unique showmanship to the parade, riding on the back of a giant turtle.
"He looks bonkers," said Darrel Doyle, 23, who was visiting from England.
In 1997, strong winds forced the Cat in the Hat balloon into a pole on the Upper West Side, knocking it over onto the crowd below and injuring several parade-watchers.
BEFORE YOU GO
PHOTO GALLERY
Macy's Thanksgiving Day Parade 2013