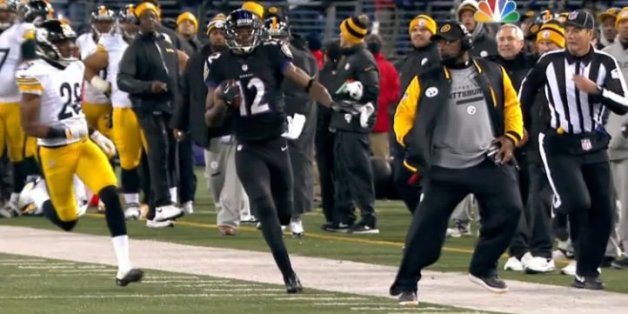 While good coaching routinely impacts the outcomes of NFL games, Pittsburgh Steelers head coach Mike Tomlin may have taken his involvement a step too far against the Baltimore Ravens on Thanksgiving. The Steelers coach took a step onto the field during a key play on Thursday night and may have even prevented the Baltimore Ravens from scoring a touchdown on a kickoff return.
After a Steelers touchdown cut the Ravens' lead to 13-7 in the third quarter, wide receiver Jacoby Jones fielded the ensuing kickoff at the goal line. The fleet-footed Baltimore return ace blazed through the initial wave of would-be tacklers, veering toward the Steelers' sideline at his left. By the time he reached midfield, there was just one defender between Jones and the end zone: Tomlin. With Tomlin standing conspicuously along the white border edging the field -- and seemingly taking a quick step onto the field of play -- Jones turned his run slightly away from the sideline, allowing Steelers cornerback Cortez Allen to pull him down from behind.
Whether due to Tomlin's positioning or simply Allen's tackle, Jones failed to score a touchdown on the play. The Ravens would eventually settle a for a field goal on the drive.
"I always watch the returns on the Jumbotron; it provides a better perspective for me," Tomlin explained to reporters after the game, via NFL.com. "Obviously, I lost my placement as he broke free, and saw at the last second how close I was to the field of play."
At first glance, Tomlin's explanation seems to hold up as he did appear to be watching the play on the Jumbotron as Jones approached.
(GIF via @SBNation)
Viewed from another angle, however, Tomlin seemed far more aware of his surroundings and actions. Despite having his back to the play, Tomlin appeared to be aware of Jones' progress along the sideline. He also seemed to take one step even closer to Jones before hopping off the field.
(GIF via @SBNation)
After holding on for a 22-20 win, Jones and his teammates seemed not to be too bothered by the play.
"I probably would've done the same thing if I knew I was back there," Jones joked to Michelle Tafoya of NBC.
By Friday morning, Tomlin's jab step was getting the Internet meme treatment.
Do the stanky legggggg http://t.co/eyDL7VLYvv

— Torrey Smith (@TorreySmithWR) November 29, 2013
UPDATE: The NFL is reviewing the play for potential discipline, according to Adam Schefter of ESPN. According to Ian Rapoport of NFL.com, a decision is expected next week.
BEFORE YOU GO
PHOTO GALLERY
PHOTOS: Steelers vs. Ravens