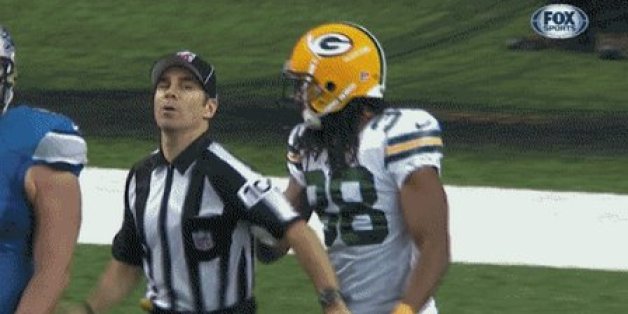 Packers cornerback Tramon Williams' frustrations boiled over after Joique Bell's touchdown gave the Lions a 33-10 lead early in the fourth quarter. As he was making his way off the field, Williams gave a light one-handed shove to one of the officials standing nearby.
A 15-yard penalty for unsportsmanlike conduct was called on Williams.
"It was an accident. One of the offensive linemen, after they scored, just kind of ran up into (me) and gave me a shoulder celebrating. I was walking, actually walking toward that way, going off the field," Williams said after Green Bay's blowout loss, per the Milwaukee Journal Sentinel. "The referee must have come and just walked right in front of me and grazed me. I don't know if he was trying to hold me or what. He just grazed me and I kind of knocked his arm off me. I was already frustrated. It was just an emotion thing."
(GIF via @SBNationGif)
The Lions went on to win 40-10 and snapped their nine-game losing streak on Thanksgiving.
BEFORE YOU GO
PHOTO GALLERY
Best 2013 Sports Photos