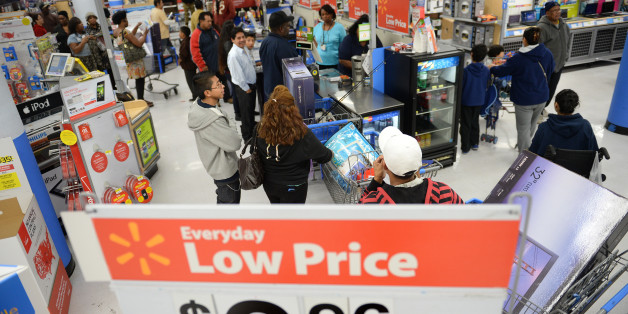 Los Angeles on Friday was torn into two camps. One would bask in a Thanksgiving turkey glow. The other would head out into a cool drizzle to join the Black Friday shopping frenzy, as it was the shoppers who scored early holiday bargains.
"Smokin' deal, 30 percent off -- definitely glad I'm here," said a beaming Brian Rodriguez, 33, of Northridge, co-owner of Apsir General Construction, pushing an arc welder bought from a Black Friday sale at Harbor Freight Tools in Woodland Hills, which typically caters to men.
"Decent deal," said Lori Kaelker, 56, of Canoga Park, who runs Serenity Place cat rescue, gloating over a 60 percent discount on fleece blankets at Joann Fabrics & Crafts next door, which largely brings in women. "The cats will be happy."
Across the region and the U.S., retailers hoping to cash in on the Christmas rush discounted goods for an event that has come to be known as Black Friday -- post-Thanksgiving sales that have crept backward well into Turkey Day Thursday.
While Kmart opened its doors at 6 a.m. Thursday, stores including Wal-Mart and Best Buy opened at 6 p.m. and retailers such as Macy's, Kohl's and Sears picked up the rear, unlocking their doors to shoppers at 8 p.m.
But because of the lateness of Thanksgiving weekend this year, it was tough to say whether the Christmas rush cut into gratitude and family time or whether Thanksgiving had actually interloped into the season reserved for commercial profit.
The retail frenzy carried into the San Fernando Valley, where shoppers loaded up with stuff ... and more stuff ... and more stuff on top of that.
While cars jostled for parking amid the rainy-Friday puddles -- completely filling the parking garage at the Glendale Galleria, police said -- others took advantage of the next holiday season. Across the Valley, Christmas tree lots had opened with fresh tannenbaums.
But not all were happy with their prospective deals.
Amy Nussbaum and her 11-year-old daughter Cadie made a beeline to Macy's at the Westfield Topanga Promenade, wanting to leverage some store coupons atop the Black Friday deals. Only she was informed her store coupons would not apply.
"I'm incensed," said Nussbaum, laden with two sacks of clothes and kitchen goodies she'd bagged at 20 percent off. "I'm hoping to find better deals."
Black Friday this year even extended to sports. The Los Angeles Dodgers, hoping to capitalize on their fans' holiday generosity, mounted a holiday mall tour across greater Los Angeles.
Encourage fans to give the gift of Dodger baseball, such Blue heroes as Steve Garvey and Steve Sax hit the Westfield Topanga Promenade, while Kenny Landreaux followed a "Blue Friday Sale" at Dodger Stadium. Garvey and Steve Yeager will appear at the Plaza West Covina today, and Maury Wills will be at the stadium's Top of the Park team store.
The storied franchise advertised season tickets, ticket packages and free Dodgers cups, bobbleheads, T-shirts and rally towels. But only the mini-plans came at a discount.
And then there were the free autographs from Dodger greats. In Woodland Hills, about 75 fans lined up for a John Hancock from Garvey, a 10-time all-star and 1974 National League MVP.
"I'm warming up ... (but) I'm well conditioned," said Garvey, who drove in from Indian Wells and wore a pink shirt with cuff links poking from his white Dodger jersey, as he readied to swing his Dodger pen. "I can do 1,000 baseballs in an hour.
"It's not in the wrists," he said, lifting his arms to indicate signature strength. "It's (in) the shoulders."
"I'm thrilled," said Eddie Benitez, 20, of Van Nuys, a season ticket holder cradling a Louisville Slugger with Garvey's signature added to other greats.
Jeremy Suede of Woodland Hills snagged a sig for his mom, then pulled out a Welcome to the World baseball Garvey had signed for him the day he was born 31 years before. But there would be no Black Friday holiday purchases for him.
"It's Cyber Monday," said Suede of Dec. 2's Internet-retailer onslaught. "I do all my holiday shopping online." ___
BEFORE YOU GO
PHOTO GALLERY
Black Friday 2013