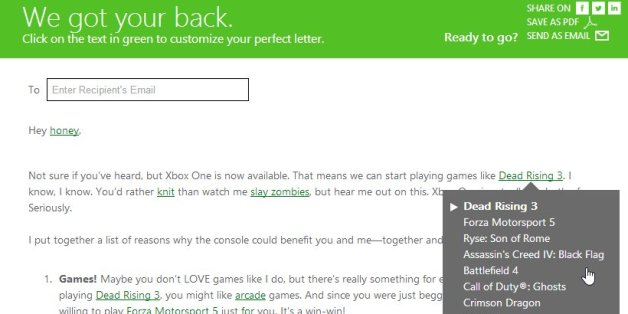 A customizable form letter released by Microsoft to publicize its Xbox One console was decried as sexist and patronizing earlier this week, forcing the company to change the letter and eventually issue an apology.
Xbox One's "We got your back" promotion came in the form of a letter designed to help would-be purchasers convince their significant others that the console was versatile and a good investment. The letter could be manipulated to change certain phrases (think Mad Libs), however the company quickly caught flak for certain default phrases that seemed to imply the letter was targeted at men attempting to persuade girlfriends or wives, notes Mashable.
Here's one option, which was widely circulated on Twitter.
"Hey honey, not sure if you've heard, but Xbox One is available," the letter begins. "That means we can start playing games like Dead Rising 3. I know, I know. You'd rather knit than watch me slay zombies, but hear me out on this. Xbox One is actually for both of us…"
Microsoft's critics seemed to take special exception to the knitting line, which many felt implied that women didn't like to play video games.
Got the letter generator for Xbox One from Microsoft. *open the games list* Nope. Keep "knitting" honey *roll eyes* pic.twitter.com/nDT31tW78x

— Claudio Medina (@missthetarget) November 27, 2013
Oh my ... "I know you love knitting but hear me out on this xbox thing" << in going back to playstation .. I can't relate to stereotypes :-/

— AimeeMaree Forsstrom (@aimee_maree) November 29, 2013
Way to be sexist with that advertising Xbox. I'm a lady who prefers shooting zombies in the face to knitting thanks very much!

— Kris (@KristyPhill) November 28, 2013
As anger online intensified, Microsoft attempted to mollify its detractors by changing some of the default phrases, reports CNET. For example, knitting was swapped out with doing your taxes early. But when this failed, the letter was scrapped -- the link now redirects to the Xbox One home page.
Microsoft also offered the following statement, according to the Wall Street Journal:
The letter is fully customizable and we meant no offense, but understand how the defaults could be perceived. We're making changes to the letter defaults and apologize for the oversight.
Indeed, not everyone was convinced that the Xbox letter was that all bad.
Oh boo who to whoever cried about Microsofts Xbox One advertisement with women knitting. If you don't like it don't buy it.

— projectreality_ (@projectreality_) November 29, 2013
However, the Guardian notes that that at the very least, the company's marketing snafu marks "a worrying lack of awareness on the part of Microsoft... By linking the console to poisonous attitudes, these screwups run the risk of making Microsoft a presence you don't want in your home."
Controversy regarding sexism and the gaming industry is nothing new. In June, Feminist Frequency blogger Anita Sarkeesian tweeted about the lack of female protagonists in Xbox One games only to be greeted by a tirade of Twitter trolling.
BEFORE YOU GO
PHOTO GALLERY
Xbox One vs. PlayStation 4