After allegedly beating and robbing rapper HBK unconscious Wednesday night at Detroit's Cobo Hall, two other Detroit rappers received death threats and promises of physical retaliation on social media.
Delon Person, who goes by HBK and is a member of rap group Doughboyz Cashout, was signed by Young Jeezy's CTE label earlier this year. Person is shown in the video below being robbed of his chain and violently assaulted by a group of young men. The rapper was knocked unconscious.
The video of the attack includes violence and strong language:
According to Cobo Hall Communications Manager Mary Klida, the event happened on the concourse in front of Macomb Hall while guests were exiting the building after the Floyd Mayweather Victory Reception.
"Security reported the incident immediately," Klida said in the statement sent to The Huffington Post. "DPD mobile units were on the scene as backup within minutes. No arrests were made, no one transported for medical attention."
The chain reportedly ended up around the neck of rapper Greenguy Webbie, who posted a photo of himself wearing a necklace that appeared to belong to HBK. Webbie and Icewear Vezzo, two up-and-coming Detroit hip-hop artists, reportedly took credit for the assault, according to Motor City Muckraker, until they were bombarded with threats to their safety on Instagram and Twitter over the weekend.
Chain of fools is a rather apt description for it.
Greenguy Webbie has said on Instagram that he doesn't have the other rapper's chain. That hasn't stopped people on social media from criticizing both rappers:
How? Wen yu rap bout drugs and Killin?js "@Icewear_Vezzo: I'm tryna set examples for Theese kids and this the shit my name get dragged in?"

— Cool Celino (@CoolestLame) November 29, 2013
Or from threatening them: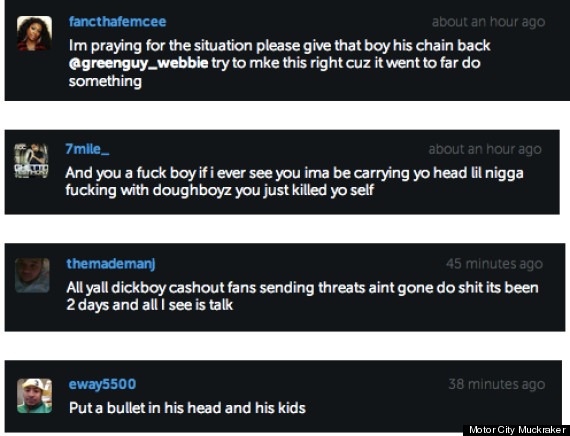 HBK said he is recovering after the assault.
Only scary niggaz run but I'm good doe thanks everybody 4 checking on a nigga #BYLUG

— BossYoLifeUpGang (@72Kiddo) November 30, 2013
The Doughboyz Cashout collective made headlines earlier this year after a young woman recorded a video in their motel room allegedly showing members of the group assaulting another woman.
Some are concerned that the assault could lead to more blood spilled. In 2004, rapper Whiteout was shot and killed following an argument over who had the original name "Chedda Boyz," Motor City Muckraker reported. Two days later, Icewood from the Street Lord'z group was shot and left in a wheelchair before being murdered in 2005. Most memorably, beloved Detroit rapper Proof was shot and killed in 2006 at a Detroit nightclub.
yo @Icewear_Vezzo and @greenguy_webbie @MOSTHATEDDVD stop dat ignorance yall tryna make the city c blade vs wipeout pt2

— Skinny NiggaBigBalls (@DTA4LYFE) November 30, 2013
BEFORE YOU GO
PHOTO GALLERY
Crime In Chicago