Thanks to Barbara Walters, Prince George has just been named one of the "Most Fascinating People of the Year" for 2013.
We hear you scoffing, and we get it: He's just a baby. He's been alive for about four months and counting. He is, by all accounts, a pretty average infant, one who "wriggles around quite a lot" and "doesn't want to go to sleep that much."
And yet little Georgie has captivated the public's attention on a scale that's hard to deny. Here are nine reasons the newest prince of England fascinated the world in 2013.
1. As the first baby born to the Windsor/Spencer family since Princess Diana's death, George symbolized the beginning of a new era for the royal family. The years of Diana and Charles' turbulent marriage, not to mention the controversial involvement of Camilla Parker Bowles, brought a negative cloud over Buckingham Palace. But George's birth is the next step in the narrative that is the royal family's 21st century rebirth -- with popular Kate at the helm and an adorable baby in tow, things are looking up for the Windsors.
2. Millions of people tuned in, bought magazines and tracked the birth online. Have you already forgotten how many reporters and photographers camped outside the Lindo wing of St. Mary's Hospital in London waiting for Kate's arrival? CNN and MSNBC aired three full minutes of cannons going off in honor of George's birth, and newspapers worldwide ran the birth as their front page story with headlines like "IT'S A BOY!" "BOY OH BOY!" and "A PRINCE IS BORN!" The months-long frenzy around the baby's birth overtook the media.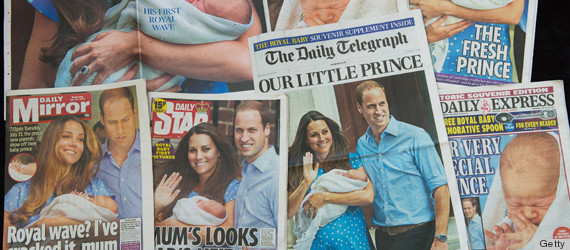 3. Prince George's impending birth actually resulted in changes to England's royal succession laws. While Britain for centuries privileged male royal heirs over their female counterparts, according to the rules of male primogeniture, a change introduced in 2011 allowed the royal baby, whether it had been a boy or a girl, to succeed the throne.
4. Prince George's birth made Carole Middleton a grandmother, giving Kate's mother a bigger stake in the family than ever. Kate is famously close with her mother, a relationship that's inspired her to break royal tradition and spend the first few weeks after George's birth at her parents' home (instead of Kensington Palace). Despite her "commoner" status, Carole stands to be as involved with Georgie's life as any normal grandparent, which may come with unprecedented challenges.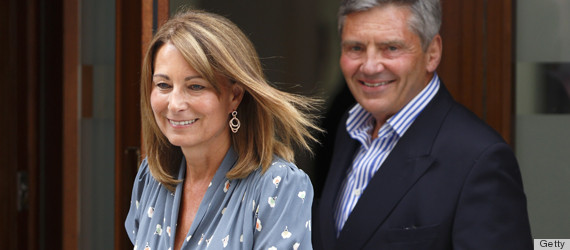 5. The so-called "Duchess Effect," whereby any clothing touched by Kate Middleton turns to retail gold, was just as strong during her months of maternity wear. An ASOS maternity dress she wore while out shopping, an outfit of which there were barely any photos, nearly sold out in a week, and her Seraphine maternity dress old out in two hours. And thus Georgie opened up the Duchess Effect to a whole new demographic.
6. There is an actual Prince George Effect, too -- the aden + anais swaddling blanket he was wrapped in while leaving the hospital sold out shortly after his big debut.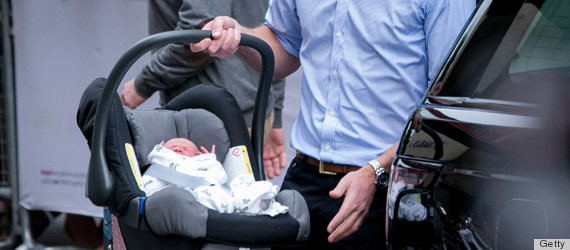 7. Will and Kate becoming parents had made them seem even more approachable and "regular" than before. Remember Prince William carefully buckling George's carseat into the SUV outside the hospital and driving away himself, sans chauffeur? That sweet moment, seen around the world, really did make the royals seem "just like us."
8. Prince George's first portrait was yet another sign that Kate and Will are going to follow a different blueprint for royal parenting. The casual photos were relaxed, unfussy and shot right in Kate's childhood backyard -- even the family pup, Lupo, was in the photo.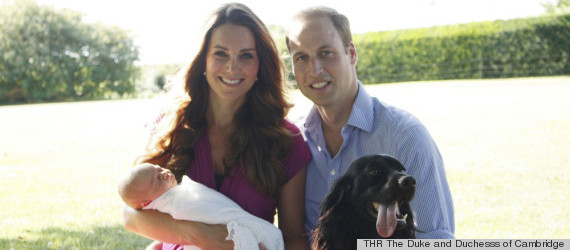 9. He's freakin' adorable.
SO fascinating:
PHOTO GALLERY
William and Kate announce their new son
Want more? Be sure to check out HuffPost Style on Twitter, Facebook, Tumblr, Pinterest and Instagram at @HuffPostStyle.