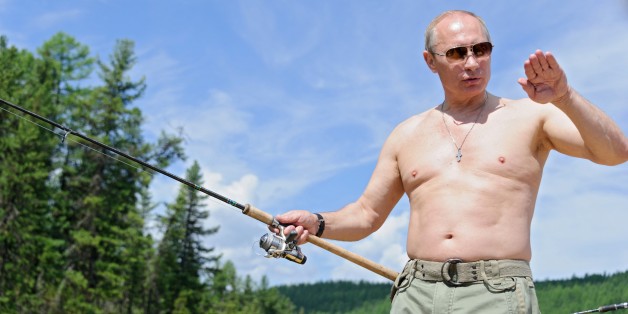 Russian President Vladimir Putin is a sexless man who may be secretly gay. At least, that's what political analyst and notorious columnist Stanislav Belkovsky is alleging in a controversial new biography about the Russian president.
According to a recent Spiegel Online review of the book, reportedly entitled "Putin," the publication depicts the Russian as an extremely wealthy but "traumatized" and lonely person who shuns human contact.
In the book, Belkovsky, a long-time Putin opponent, is also said to speculate that "sex and a sex life are alien" to the politician, who the 42-year-old author says may be "latently gay."
The Kremlin has flatly denied the biography's allegations. "Belkovsky's remarks are lacking any basis, or as we say it in Russia: They are total rubbish," Putin spokesman Dmitry Peskov said, according to Spiegel Online.
Visit Spiegel Online to learn more about Belkovsky's new book.
Implications of homosexuality would understandably not sit well with the Russian leader and his government. In July, Harvey Fierstein wrote in an op-ed for The New York Times that Putin had "declared war on homosexuals" after he signed several anti-gay bills into law, including one that banned "homosexual propaganda."
Activists say these laws have spawned a widespread culture of violence and fear for LGBT Russians, some of whom have reportedly been subjected to horrific humiliation and torture.
Despite widespread international criticism, Putin has defended these anti-gay measures and has insisted that neither he nor his government is homophobic.
BEFORE YOU GO
PHOTO GALLERY
Stars Sound Off On Russia's Anti-Gay Law