Basically no one is tipping America's fast-food workers. But after looking at a new survey of tipping practices by salary information site PayScale, maybe you'll agree we should be.
Of the 51 types of workers surveyed by PayScale, no group received fewer tips per hour than fast-food workers. That's both in terms of median hourly tips (40 cents) and the percentage of income that comes from tips (4.8 percent). And if you think non-tip pay compensates for that, you're wrong. At $8.30 per hour, fast-food workers also lay claim to the lowest typical total income -- that's the combined total of tips and base pay -- of any group surveyed.
That means fast-food workers earn less per hour than a wide-ranging group of tipped workers, including strippers, waiters, bartenders, pizza-delivery drivers, restaurants hosts, baristas, tour guides, movers, housekeepers and even dog groomers. (For the full list of jobs surveyed by PayScale, you can click over to the report.)
Unlike some of those professions, fast food typically pays a minimum wage, which theoretically should make up for the tips workers don't receive. But the minimum wage has not been raised in four years and arguably should be three times more than the current national minimum of $7.25.
More and more, these fast-food workers aren't simply teenagers looking to make a couple of bucks on the side, either. These people need the money. More than half of all fast-food workers are full-fledged adults, aged 21 or older, and more than a quarter are parents, according to the Center for Economic and Policy Research. Yet the typical fast-food worker made only $18,130 in 2010, according to Labor Department data.
Try living on that.
One way or another, the low wages of the fast-food workforce are costing you money. More than half of non-managerial fast-food workers make so little they need government assistance in some form, like Medicaid or food stamps, according to a recent study from the University of California-Berkeley and University of Illinois at Urbana-Champaign. That sort of assistance costs taxpayers around $3.8 billion per year when accounting for only the top 10 largest fast food chains, according to the National Employment Law Project.
Such a high level of participation in government programs compares unfavorably with a number of other sectors of the economy: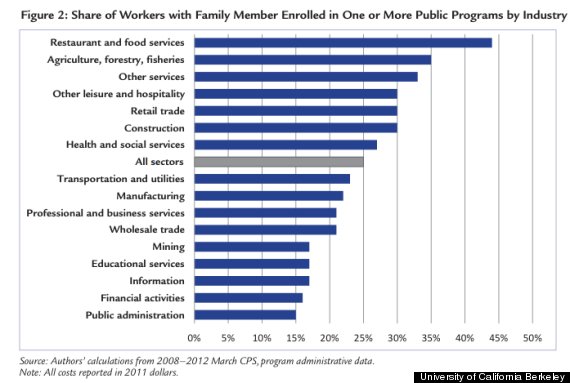 For some, the stress has become too much. Workers in roughly 100 cities plan to walk off the job this week to demand $15 per hour, according to the protest's organizers. President Obama has called repeatedly for a minimum-wage increase to $10.10 an hour, but Congress seems in no hurry to oblige.
In the meantime, maybe we should throw some tip jars in fast-food chains around the country?
BEFORE YOU GO
PHOTO GALLERY
Most Outrageous Tipping Stories