Media outlets around the world are offering inspired remembrances of Nelson Mandela, who died on Thursday at the age of 95.
And then there is NBC's "Today" show.
For some reason, "Today" asked writers for Fast Company's Co.Design website to "live-emoji" Friday's show -- that is, to interpret segments of the morning news program though emojis, the cutesy Japanese cousins to emoticons.
Here, courtesy of the "Today" show's website, is how these design wizards noted the passing of Mandela: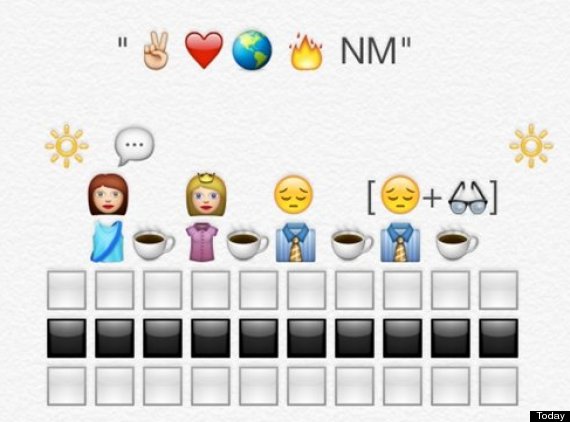 According to the "Today" show's key, the emoji people are, from left to right, Hoda Kotb, Savannah Guthrie, Matt Lauer and Al Roker.
This groan-worthy commemoration isn't entirely out of left field for Co.Design, which has in the past used emjois to interpret news, movies, TV and books. Most of the time, it's just a fun use of a messaging medium that is becoming popular in the U.S.
But maybe some topics are not quite right for emojification.
UPDATE: NBC's Ryan Osborn tweeted a response to HuffPost:
@dino_grandoni The show had in-depth coverage on TV this morning. Emoji was a second screen experiment that we handled very carefully.

— Ryan Osborn (@rozzy) December 6, 2013
@dino_grandoni Within context of post on our site, it makes sense. Working hard to try new things and be creative. Welcome feedback.

— Ryan Osborn (@rozzy) December 6, 2013