Got a success story of your own? Send it to us at success.stories@huffingtonpost.com and you could be featured in our I Lost Weight series!
Name: Jennifer Smith
Age: 37
Height: 5'9"
Before Weight: 350 pounds
How I Gained It: My first memory of being overweight was when I was five years old on my first day of kindergarten. I had been blissfully ignorant of the fact until that day, but since, have been reminded every day. My entire life I have battled with obesity, never understanding why I had such a strong desire to eat. Over the past year I have realized that I never allowed myself to "feel" anything, I was numbing all emotions with food.
In June 2012, I weighed 350 pounds. I was no longer able to work, as I could hardly take 10 steps without having to sit down and rest. The simplest, everyday things had become difficult for me. I had all the health problems that one would expect from someone my size: high blood pressure, high cholesterol, type 2 diabetes (just to name a few). I was on 17 different medications, and on 800 units of insulin per day. I always say I had a heartbeat, but I wasn't alive.
Breaking Point: During a visit to see my endocrinologist, I said to him, "I am just so insulin resistant, I think I could take the whole bottle of insulin and it wouldn't help!" That's when the doctor said, "Jennifer, you are out-eating your insulin."
His statement made me cry for two reasons. One, it was humiliating, and two, why would I do this to myself? I remember this day so profoundly because it's the day my life was forever changed.
How I Lost It: It was there at the Greenville Free Medical Clinic that I met Nursing Director Mark C. Johnson, RN. Mark told me something I hadn't heard in a very long time. He said, "I believe in you, and I know you can lose this weight." Mark can never understand why this meant so much to me. Perhaps it's because I had given up long ago and never expected to hear those words again. It sparked something in me that day and I believed him.
Mark asked me to write down everything I ate for one week and then bring it to him so we could go over it together. After I did that, I met with him and he made simple suggestions that were easy to do. For example, he said, "Instead of five pieces of bacon, have two." What I heard was, "I can still have bacon." He made everything seem possible.
For the first time I was forced to see what I was doing. When you are looking at such a large amount of weight to lose, it seems hopeless, but Mark gave me hope. He taught me that food is not my enemy, and that's where I had gone wrong so many times before. Cutting out certain foods or food groups for a time only made me binge on them later. Instead, I have learned to nourish my body with all types of food. I am not on a diet, I have changed the way I think and feel about food. I now know what foods are going to make me feel good and which ones make me feel bad. I keep a food journal, and I'm careful to follow serving sizes on nutrition labels. Mark has taught me to be mindful of what, when and why I'm eating. I was able to meet with him every week for a year.
Exercise is also a critical part of my weight loss. Mark is an ultra-marathon runner, and he often used his running experiences as a way to relate to my weight-loss journey. I started to think maybe I could run, too. At the end of November 2012, at 300 pounds, I started to run. Not for long: I think it was about 30 seconds before I had to stop and rest. But every day I was back at it, trying again and again. I learned I'm not weak-willed or lazy, and I am very proud to say that in June 2013 I ran my first 8K. Running has tamed the "beast" of my food addiction. Now I run five or six days a week, and I'm training for a half marathon.
My life has changed so much since last year. I am working again at a job I love, and I am able to volunteer at the clinic two days a week leading a nutrition and weight loss class. I have gotten off most of my medications, and I am no longer diabetic. I can never thank the wonderful staff and volunteers at the clinic enough for all their exceptional care and continual encouragement. And, a special thank you to Mark, who saved my life.
Current Weight: 185 pounds. I have 25 more pounds to go to reach my goal.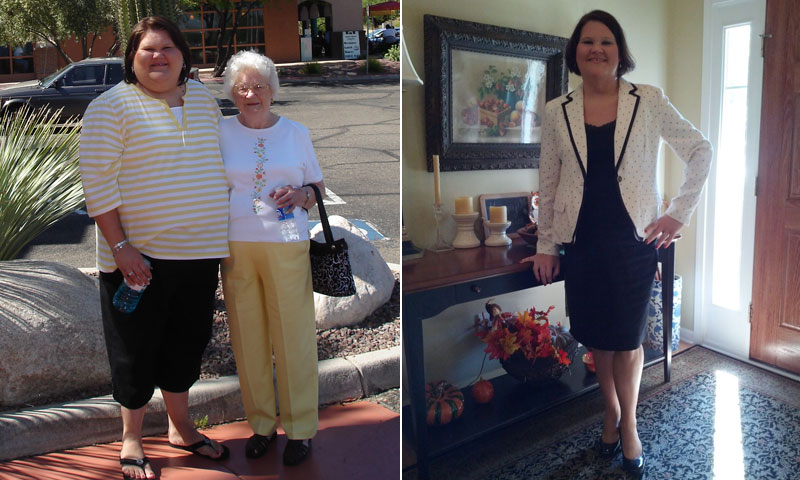 The Huffington Post publishes photographs as they are submitted to us by our readers.
Check out more of our inspiring weight loss stories below:
PHOTO GALLERY
Weight Loss Success Stories
For more on weight loss, click here.