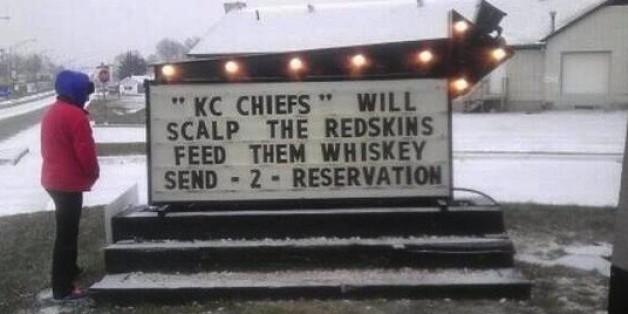 A Missouri fast-food restaurant's attempt at humor fell very flat over the weekend, prompting outrage and an eventual apology from the chain's management.
The controversy began after a photo of a sign outside a Sonic Drive-In in Belton, Mo., began circulating on Twitter on Sunday. The sign, which was taken down a few hours later, referenced the weekend's match-up between the National Football League's Kansas City Chiefs and the Washington Redskins.
While the heavily favored Chiefs ultimately prevailed over the Redskins, it was the sign's mocking reference to Native American stereotypes that angered Twitter user Dolores Schilling. The sign read, "KC CHIEFS' WILL SCALP THE REDSKINS FEED THEM WHISKEY SEND - 2 - RESERVATION."
Do you condone this? @sonicdrive_in pic.twitter.com/hGqgmFmZuw

— Delores Schilling (@DelSchilling) December 8, 2013
The whiskey reference is in particularly bad taste given the terrible toll alcoholism has taken on the Native American population. A 2008 report by the Centers for Disease Control and Prevention found that the percentage alcohol-related deaths among Native Americans and Alaska Natives was three times higher than that of the general population, the Associated Press noted in a previous report.
Sonic quickly apologized to Schilling over Twitter, saying the popular burger chain did not condone the franchisee's message.
@DelSchilling No we do not. It is wrong and hurtful. Owner very angry it happened. Employees coached. We apologize for brand and owner.

— Sonic Drive-In (@sonicdrive_in) December 9, 2013
In an interview with NBC News, Sonic's Vice President of Public Relations Patrick Lenow reiterated the company's condemnation of the Belton store's sentiments.
"The remarks posted on this message board were wrong, offensive and unacceptable," Lenow told NBC in a statement. "In a misguided effort to support his football team an independent franchise owner allowed passion to override good judgment. The owner has reinforced with his employees the boundaries of what is acceptable and unacceptable. On behalf of the franchise owner and our entire brand we apologize for the offensive remarks."
CBS Sports pointed out the racist joke comes on the heels of efforts by the Oneida Nation to get the owner of the Washington Redskins to change the team's name, which the Oneida consider offensive. While the D.C. Council has since passed a resolution calling for a name change, Redskins owner Dan Snyder has stated repeatedly that he will not change the name.