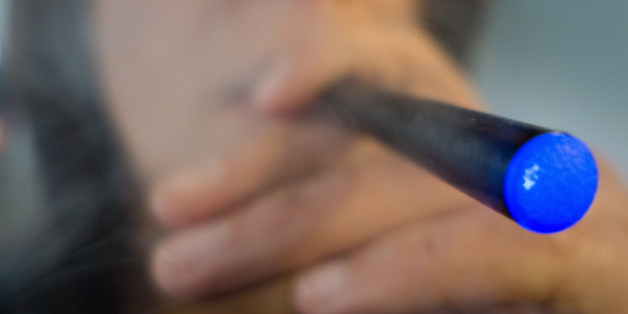 Mayor Rahm Emanuel's plan to heavily regulate e-cigarettes in Chicago was blown off course after surprising pushback from aldermen in the normally compliant City Council.
The City Council's Finance and Health committees agreed to a stricter ban on selling menthol and flavored tobacco products within 500 feet of Chicago schools during its Monday meeting, but several alderman strongly opposed the mayor's plan to regulate e-cigarettes as tobacco products, the Sun-Times reports.
If electronic cigarettes were classified as "tobacco products," they would be subject them to the same restrictions imposed on traditional cigarettes under the city's smoking ban. As CBS Chicago notes, Chicago's no smoking ban applies to "virtually any indoor area in the city" save private residences, vehicles and designated shops and hotels.
According to the Tribune, alderman doubted the harm from e-cigarettes' vapor is comparable to that of traditional smokes, even after the mayor's commissioner of the Chicago Department of Public Health, Dr. Bechara Choucair, urged them to adopt the proposal.
"There is no proof that water vapor in the air does anything. If that is the case, humidifiers are gone. And boiling water is gone in restaurants," argued Ald. Leslie Hairston (5th).
Ald. George Cardenas (12th), disagreed. "The data that we have on hand that water vapor from electronic cigarettes has been shown to contain addictive nicotine, and heavy metals," Cardenas said according to CBS.
Downtown Ald. Brendan Reilly (42nd), a smoker, said Emanuel's ban would discourage people like him who turn to e-cigarettes as a way to kick the habit.
"Where this kind of crosses the line for me is where we start talking about including the device as if it is a tobacco product. Many smokers are actually using these devices or devices like them as part of their cessation program," Reilly said while puffing on an e-cigarette in chambers.
Ald. Ed Burke (14th), who co-sponsored the proposal, said he'd be willing to tweak the language of the ban in order to see some form of it approved, the Tribune reports.
Cities around the country are devising new rules on how to regulate e-cigarettes; Los Angeles' City Council recently passed an ordinance regulating e-cigarettes while New York City is considering one. Chicago currently bans e-cigarettes from the city's airports.
BEFORE YOU GO
PHOTO GALLERY
Natural Ways To Quit Smoking