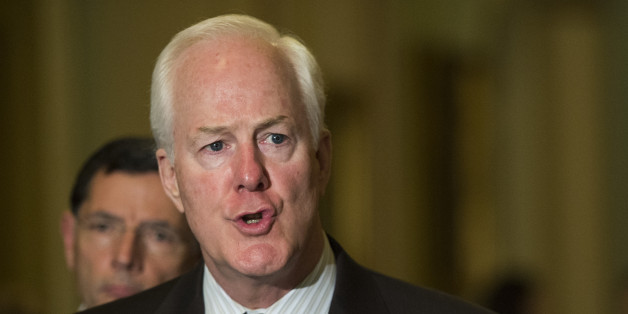 WASHINGTON -- Sen. John Cornyn (R-Texas) said Tuesday that he was just as surprised as anyone to hear that Rep. Steve Stockman (R-Texas) plans to run against him in 2014.
"He wasn't on my radar screen," Cornyn told reporters, downplaying the significance of the tea party-backed congressman jumping into the race. He pointed out that since there are five Republicans and five Democrats running for his seat, Stockman is just one of many.
"It's a big state and I'm not going to focus on any particular candidate," he said. "I'm going to pay all of them equal attention."
Stockman, perhaps best known for his outlandish and offensive tweets about abortion, unexpectedly announced Monday that he will challenge Cornyn. He said in a statement that he has been "extremely disappointed" in Cornyn's treatment of certain colleagues and criticized him for not standing with fellow Texas Sen. Ted Cruz (R) earlier this year in his campaign to defund Obamacare.
"We think he needs to be held accountable for his decisions," Stockman said of Cornyn.
Cornyn said Tuesday he suspected that Stockman had decided to challenge him because he was worried about being able to hold onto his House seat next year.
"He obviously was going to be looking at a difficult race in his own congressional seat, so he decided to try something different," he said.
Stockman is serving his second term in Congress -- his first was in 1994 -- and is relatively unknown compared to Cornyn, who has been a leading conservative in the Senate since 2002. But he may be gunning for a repeat of Cruz's Senate win in 2012, when he pulled off a surprise upset against Lt. Gov. David Dewhurst. Cruz soared to victory by running as a firebrand tea party candidate, and Stockman certainly fits that bill.
Cornyn suggested it was Cruz's particular talents and the timing of his Senate race that led to his victory, not necessarily his more extreme platform.
"I think one race does not a trend set, but obviously there are lessons to be learned from that," he said. "And believe me, I've learned them."
The 2014 race could get awkward for groups looking to finance conservative candidates, given that both Cornyn and Stockman are so high on the list. At least one group has already announced it plans to stay out of the race altogether.
"While Congressman Stockman has a pro-economic growth record, so does Senator Cornyn, as witnessed by his 87 percent lifetime Club for Growth score," Club for Growth President Chris Chocola said in a Tuesday statement. "We do not expect to be involved in the Texas Senate race."
BEFORE YOU GO
PHOTO GALLERY
Tea Party Statements