The droughts of snow in DC and of new polls nationwide both came to an abrupt end today, but with conflicting results. A Pew Research poll of adults finds a slight improvement for Obama, while Marist and Quinnipiac polls of registered voters find his job performance at a new low. This is HuffPollster for Tuesday, December 10, 2013.
ONE POLL SHOWS A 'MODEST IMPROVEMENT' FOR OBAMA SINCE NOVEMBER... - Pew Research: "Obama's job rating has reversed a five-month slide. Currently, 45% approve of the way he is handling his job as president while 49% disapprove. In early November, amid the widely criticized rollout of health care exchanges and the Healthcare.Gov website, 41% approved of his job performance and 53% disapproved. His job rating had been as high as 51% in May and 55% in December 2012, shortly after he won reelection...The national survey by the Pew Research Center and USA TODAY, conducted Dec. 3--8 among 2,001 adults, finds that despite the recent uptick in Obama's job rating, his standing with the public is much worse today than it was at the start of the year. The percentage viewing Obama as 'not trustworthy' has risen 15 points since January –from 30% to 45%. There has been a comparable increase in the share saying he is 'not able to get things done' (from 37% to 51%)...Currently, 41% approve of the 2010 health care law while 55% disapprove. That is little changed from surveys conducted in October and September, before controversies erupted over the healthcare website glitches and cancellation of individual health care plans . [Pew Research]
ANOTHER SHOWS OBAMA'S JOB PERFORMANCE STILL UNDER 40 - Quinnipiac: "President Barack Obama's job approval among American voters drops to a new low, a negative 38 - 57 percent, as the outlook for Democrats running for Congress and the U.S. Senate fades also, according to a national poll released today…Today, Obama gets negative scores of 6 - 92 percent among Republicans, 30 - 62 percent among independent voters, 31 - 64 percent among men, 44 - 49 percent among women and 29 - 65 among white voters. Approval is 76 - 18 percent among Democrats and 85 - 9 percent among black voters. American voters say 41 - 38 percent that they would vote for a Republican over a Democrat for the U.S. House of Representatives, the first time this year the Democrats come up on the short end of this generic ballot....American voters disapprove 74 - 19 percent of the way Republicans in Congress are doing their job and disapprove 67 - 27 percent of Democrats in Congress. President Obama is not honest and trustworthy, American voters say 52 - 44 percent and is not a strong leader, voters say 51 - 47 percent. Voters are divided 48 - 49 percent on whether Obama cares about their needs and problems. " [Quinnipiac]
A THIRD SHOWS OBAMA'S NUMBERS DOWN SINCE SEPTEMBER - McClatchy/Marist: "Voters nationally are dissatisfied with the country's elected officials and the state of the nation. While President Barack Obama's job approval rating hovers in the low 40's, a majority of registered voters say they are displeased with how President Obama is doing his job. To make matters worse for the president, it is the first time a majority of Americans have an unfavorable view of him. President Obama isn't alone. The job approval ratings of the Republicans and Democrats in Congress continue to be low, and voters' dissatisfaction with the Congressional GOP is at its highest. Many voters give the nation's elected officials in Washington poor grades. Americans' attitudes toward the direction of the nation are pessimistic. The proportion of adults who think the country is off track is the largest in more than two years." [Marist]
A FOURTH FINDS CONTINUING 'HARSH VIEW' OF OBAMA ON ECONOMY - Early results from a new CBS/New York Times poll to be released in full at 6:30 p.m. Tuesday finds no improvement for President Obama on the economy. Marjorie Connelly: "The poll found 37 percent of those surveyed approve of Mr. Obama's handling of the economy; 58 percent disapprove. These numbers are indistinguishable from the results of a CBS News poll taken last month, although better-than-expected unemployment numbers and other positive economic data were released last week. Interviewing for the nationwide poll was conducted Thursday through Sunday. Last week's encouraging reports on the economy may have had some influence on the public, however. While over all the impression of the economy remains negative, the number who see it in a positive light has grown slightly. In the latest poll, 37 percent said the economy was in good condition, up from 32 percent in last month's CBS News poll." [NYTimes]
Gallup finds similar uptick in economic confidence - Alyssa Brown: "Americans' confidence in the economy is still slowly recovering from its government shutdown-induced plunge. Gallup's Economic Confidence Index averaged --22 last week, significantly improved from --39 during the second week of the federal government shutdown in October but below the --15 found in mid-September...Gallup's three-day rolling averages show that most of the improvement happened after the Bureau of Labor Statistics released a positive labor report on Friday, showing the unemployment rate in November dropping to its lowest level in five years. The index was --25 for Monday-Wednesday interviewing and --19 for Friday-Sunday interviewing." [Gallup]
So what to make of the somewhat contradictory results? - The Quinnipiac poll typically produces a slightly lower approval job rating for President Obama because it reports on the attitudes of self-reported registered voters, while the Pew Research surveys sample all U.S. adults (the non-voters tend to be slightly more Democratic). Other new polls coming soon will help clarify Obama's standing, but among the polls that tracked Obama's progress since early November, Gallup, Rasmussen Reports and Economist/YouGov have all shown little change in Obama's approval percentage. YouGov, like Quinnipiac, showed a slight increase in the disapproval rating.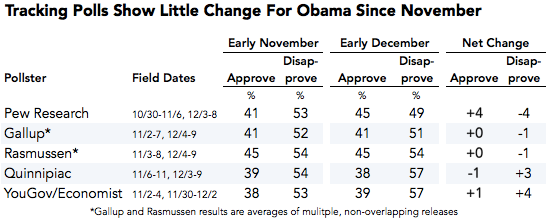 Pollster chart shows similar result - The Pollster chart, based on all of the available public polls shows no end to the slide in Obama's ratings, although setting the chart to the "less smoothing" setting (to catch any more recent uptick) suggests a slight leveling off since November. [Pollster]
SUPPORT FOR STRICTER GUN CONTROL FADES - Emily Swanson: "Support for stronger gun laws has dropped from highs in the weeks after last year's elementary school massacre in Newtown, Conn., even though other mass shootings have kept guns in the news, according to a new HuffPost/YouGov poll and others conducted over the past year. Still, support for universal background checks for all gun buyers, including those at gun shows and in private sales, remains near its peak since the shooting. Seventy-seven percent of poll respondents said they favored such a requirement, while 16 percent were opposed. Americans were more divided over banning high-capacity magazines for semi-automatic weapons, with 48 percent in favor and 38 percent opposed. According to the latest poll, 49 percent of Americans now want generally stricter gun laws, while 22 percent say they should be less strict and 23 percent want no change." [HuffPost]
CALIFORNIANS NOW WIDELY ACCEPT MARIJUANA - Mark DiCamillo and Mervin Field: "Legalizing the sale of marijuana has long been a contentious issue in California. But over the recent decades public opinion has moved from a resolute anti-marijuana position to one of general acceptance. A 1969 Field Poll found that 75% of Californians wanted either strict enforcement of marijuana laws against its use or passing even tougher laws, while only 13% favored its legalization. However, the latest Field Poll completed last week graphically illustrates the huge reversal of public sentiment toward marijuana since that time. At present, just 31% favor strict enforcement of existing laws or passing tougher sanctions, while 55% favor legalization. Today's survey also finds a 56% majority favoring the adoption of a proposed statewide initiative to decriminalize the use and cultivation of marijuana in California." [Field]
HUFFPOLLSTER VIA EMAIL! - You can receive this daily update every weekday via email! Just enter your email address in the box on the upper right corner of this page, and click "sign up." That's all there is to it (and you can unsubscribe anytime).
TUESDAY'S 'OUTLIERS' - Links to more news at the intersection of polling, politics and political data:
-Chris Christie begins his second term as New Jersey's governor with high ratings and few concrete expectations from his constituents. [Monmouth]
-PPP (D) finds the GOP gaining in Michigan. [PPP]
-PPP (D) finds a tossup in North Carolina's Senate race. [PPP]
-A poll for Citizens United (R) finds Republican Tom Cotton leading Sen. Mark Pryor (D-Ark.) [Politico]
-Andrew Gelman reminds us that horse race poll results are just snapshots. [WaPost's Monkey Cage]
-Remembering market research legend Jack Honomichl. [CASRO and Research-Live]
-ChartGirl publishes her Guide to Gifts for Chart Lovers for 2013. [ChartGirl]
BEFORE YOU GO
PHOTO GALLERY
Barack Obama's Style