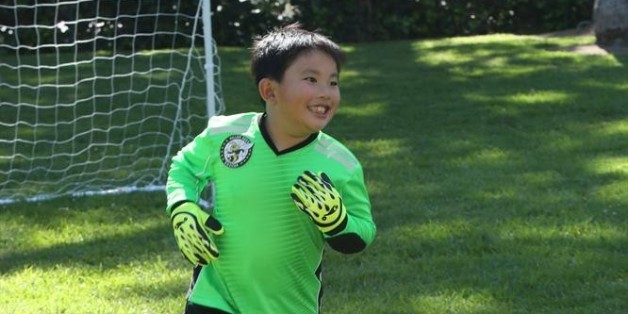 I can't recall the last time I drew up a Best New Shows of the Year list. I'm not even sure I've written one before.
But 2013 certainly deserves a list paying tribute to the newcomers that blazed across our screens. There was so much fine new programming of so many different kinds that I'd be remiss if I didn't draw attention to at least some of it. The sad fact is, I didn't get to every new scripted show that premiered (online or elsewhere) -- not for lack of trying -- but I did get to a fair bit of it. And I couldn't resist celebrating all that's new and exciting about TV because after all that's one of the main reasons I love this gig.
By the way, I've also posted my year-end Top 10 roster, and Best Returning Shows list. If I threaten to write any other lists, remove the company-issued laptop from my person and call security.
All right, here's my list of the 25 Best New Shows of 2013 (and write-ups for seven of the finest are here):
"The Americans," FX: Now it can be told: Soviet wig technology was way ahead of ours during the Cold War. Who knew? Seriously, despite the fact that this show spent a decent chunk of its first season finding itself, it also supplied a whole bunch of opportunities for Keri Russell, Matthew Rhys, Margo Martindale and Noah Emmerich to deliver terrific performances as a set of characters driven by warring loyalties. Am I glad this Cold War drama is returning in February? Da. (By the way, here's my original review.)
"An Adventure in Space and Time," BBC America: This wasn't just a valentine to the "Doctor Who" fandom, it was a tribute to the effort that goes into creating entertainment capable of transporting TV viewers to faraway places. The centerpiece was a terrific performance from the ubiquitous and wonderful David Bradley. (My review)
"Banshee," Cinemax: "Banshee" committed to a well-defined kind of pulpy, noir storytelling right out of the gate, and it satisfyingly honed that bruised vision during the fast-paced run of its first season. The drama had other things going for it, notably a laconic sense of humor and a good villain, but its crackling action scenes were one of its biggest draws. Fans of visceral, bone-crunching fisticuffs should know that if they aren't watching this show, they're missing out. (My review)
"Behind the Candelabra," HBO: This confidently executed film didn't just provide an array of top-flight actors with a chance to take some risks, it also presented a very savvy portrait of the compromises and cruelty embedded in the celebrity lifestyle. (My interview with "Candelabra" actor Rob Lowe)
"The Bletchley Circle," PBS: It got lost in the spring shuffle, but this U.K. import had a refreshingly different take on crime and police work and, like so many of the year's most compelling offerings, it featured a terrific and largely female ensemble. (My review)
"The Bridge," FX: Truthfully, there is one reason this show's on this list: Demián Bichir, whose terrific performance as a hangdog cop anchored a show that did a lot of flailing in its debut season. Even so, "The Bridge" has some promising elements and I'm still on board with its commitment to telling complicated border tales, even if the show got sidetracked by some questionable shenanigans in Season 1. (My review)
"Broadchurch," BBC America
"Continuum," Syfy: This time-travel thriller was surprisingly soulful and thoughtful, despite being kind of Vancouver-y around the edges (if you've watched any inexpensive genre fare during the last 15 years, you know exactly what that adjective means). (My review)
"Defiance," Syfy: This sturdy sci-fi drama actually embraced the idea of aliens and spaceships and such, TV staples that have otherwise mostly fallen out of fashion. A very good cast anchored multiple story threads, and even if some of them didn't quite work, I'm still interested in what happens next. The secret is, "Defiance" is more of a Western than anything -- it takes place in a nearly lawless frontier town -- but it had fun with a whole range of genre tropes, and it featured an acerbic town doctor who is also a lizard, which is all kinds of awesome. (My review and some info on Season 2)
"The Fall," Netflix: The best kind of U.K. crime shows tend to be meaty character studies, and "The Fall" continued in the fine tradition of "Prime Suspect" by offering a compelling cat-and-mouse game and a prickly cop who methodically worked through the obstacles the case and her colleagues put in her path. If the casting of Jamie Dornan in the upcoming "50 Shades" movie has you all atingle, this is the best place to see his work (with his clothes on, that is). (My review)
"Hannibal," NBC: This cerebral yet bloody drama was gorgeous to look at and disturbing to think about, and, in this case, both those statements are compliments. Mads Mikkelsen and Hugh Dancy were brilliant in the lead roles, but "Hannibal's" main recommendation is that, like several of the most ambitious shows on my best-of lists, it took the costs and consequences of violence seriously. (My review and thoughts on the Season 1 finale)
"Inside Amy Schumer," Comedy Central: Several of these sketches are still lodged deep in my mind, like the one in which women compliment each other only to ferociously reject each other's kind words, and the one that took place at O'Nutters, a Hooters for the ladies. The good sketches -- and there were a quite a few of them in the show's debut season -- had a loopy, self-lacerating honesty to them, and they were really funny, too. (My review)
"Masters of Sex," Showtime
"Oh My God," Louis C.K., HBO: This comedy special was available online last year but made its way to HBO this year, thus even more people had the chance to weep helplessly with laughter while Louis C.K. accurately diagnosed some inexplicable aspects of the human condition. Given that more than a year has gone by without new "Louie" episodes (and the show doesn't return to FX until May), it provided a much-needed slice of C.K.'s dark, humane, original thinking.
"Orphan Black," BBC America
"Orange Is the New Black," Netflix
"Rectify," Sundance Channel
"The Returned," Sundance Channel
"Sleepy Hollow," Fox: My love for this energetic, supernaturally inclined Revolutionary War tale is well-documented, so I'll just point you to this review, this appreciation and a brand-new IchaPodcast. I'm going to spend the entire holiday break working on my "Sleepy Hollow" rap (it will take a lot of work to properly arrange couplets containing the phrases "Ichabod Crane," "Irving's gain," "insane in the brain," "Horseman's bane," "Thomas Paine," "OnStar swain," "Abbie's fame" and "horse's mane").
"Time of Death," Showtime: A confession: I did not see this, given that my father died four days after it premiered. But many critics I trust have said the documentary series was a bracing, honest and necessary look at the end of life. I list it here because it sounds like it's worth sampling, and I want to praise Showtime for taking on the subject matter. Watching someone die brings out a surreal melange of emotions, some of them beautiful, some of them painful, many of them confounding and profound. I'm glad there was a program this year that delved into a situation we all face at one time or another with (by all accounts) an attitude of dignity, honesty and respect.
"Top of the Lake," Sundance Channel
"Trophy Wife," ABC: This year wasn't encouraging on the broadcast network front when it came to new comedies (I really want to like "Brooklyn Nine-Nine," but I think the writing for and casting of Andy Samberg in the lead role might be an insurmountable problem for me). This sweet and well-acted comedy, however, shows a great deal of potential, and though the entire cast is very sharp and funny, I must pay tribute to "Trophy Wife" for introducing one of the year's most awesomely enthusiastic new characters, the indomitable Bert (Albert Tsai), the inventor of Bertwheels. (My review)
"Vikings," History: Once I accepted that this show's specialty is not character depth -- Ragnar Lothbrok's personality development consisted largely of Significant Glares -- it was easy to appreciate the adventure drama's good qualities: It had excellent supporting performances from Gabriel Byrne and Donal Logue, beautifully shot scenery, admirable attempts at historical fidelity and a surprisingly effective depiction of the clash of two very different systems of spiritual beliefs. (My review)
"The Wrong Mans," Hulu: I'm going to make a bold prediction: Some very savvy big-budget film franchise will soon snap up the prodigiously talented James Corden, and then he will be lost to the small screen forever. Before that happens, watch this entertainingly silly thriller (which Corden co-wrote) about office drones caught up in a kidnapping escapade. Corden's exceptional comic timing is a thing of beauty.
"A Young Doctor's Notebook," Ovation: How many chances will you get to see Jon Hamm and Daniel Radcliffe appear in something this bittersweet and bizarre? Not many (well, not until the show returns with Season 2). This farce about a doctor reflecting on his youthful mistakes was simultaneously surreal, arch and slapstick, and it stretched both actors in new and fruitful ways. It also mined Russian melancholy productively, which is not something you can say about many other shows. Here's the short version of all that: Harry Potter and Don Draper as you've never seen them! (My review)
Two more lists: An overall Top 10 and the Best Returning Shows of the year.