 It's 'Polling Christmas!' A rush of national polls finds low ratings but little change, for President Obama and even worse numbers for Republicans. And 2013 was a bad year for just about everyone. This is HuffPollster for Wednesday, December 11, 2013.
POLLAPALOOZA: TEN NEW NATIONAL POLLS THIS WEEK - Since Monday, 10 different media organizations and pollsters have released new national surveys probing opinions on President Barack Obama, other leaders and political issues. Focusing first on perceptions of Obama, the new results confirm that perceptions of his job performance have worsened since October, but may have leveled off in November. The standard settings on the Pollster chart, which include all of the public polls, put Obama's current rating at 41.7 percent approve, 53.7 percent disapprove. When we change to a "less smooth" trend line (to better capture the more recent change as shown below), the results is slightly better (42.2 percent approve, 53.8 percent disapprove) but again, the trend lines show a bit of a leveling off in both the approve and disapprove ratings. [Pollster chart with standard settings and "less smoothing"]
Tracking polls show inconsistent trends since late October Focusing on the subset of polls that also previously measured Obama's rating between late October or early November yields no consistent pattern. Some show a slight improvement for Obama, others show a slight decline. But the changes are small and mostly with the range of sampling error, and the field dates differ slightly, so safest conclusion for now is that Obama's ratings declined in late October but have held most steady since.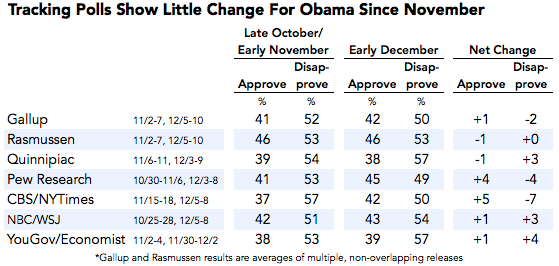 And what's consistent? - Every public poll logged into the Pollster database in November and December shows more Americans expression disapproval of Obama's performance than approval. And every poll that tested a personal favorability for Obama since late October shows a net negative rating. But ratings of Obama are only part of the story. Congress continues to receive job approval ratings hovering near 10 percent, and new five polls released this week all confirm that favorable and job ratings of the Democratic Party or Democrats in Congress remain significantly higher than ratings of the Republicans. The Pollster charts currently give the Democrats rating of 40 favorable, 51 unfavorable rating compared to Republicans at 27 percent favorable, 63 percent unfavorable. [Pollster charts for Democratic Party favorable rating, Republican Party favorable rating]
Also consistent: wide-ranging negativity - A look through the Pollster charts also shows that Americans are deeply unhappy with many aspects of political life. The share of people who believe that they country is headed in the right direction has dropped significantly in the past year, as have the ratings of many prominent figures on both parties.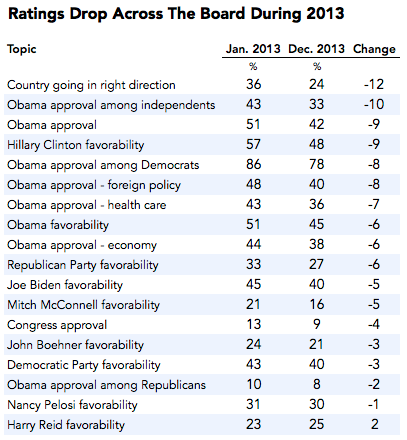 THE SEVEN NEW POLLS RELEASED TODAY:
AP/GfK: Obama, Congress both get low ratings - Charles Babington and Jennifer Agiesta: "Heading into a congressional election year, Americans hold Congress in strikingly low regard, and nearly two-thirds say they would like to see their House member replaced, a new poll finds. Even though Americans are feeling somewhat better about the economy — and their personal finances — elected officials in Washington aren't benefiting from the improved mood, the Associated Press-GfK poll found. President Barack Obama's approval rating was negative: 58 percent disapprove of the job he's doing as president, while 42 percent approve. Obama isn't running for office again, however, whereas all 435 House seats and one-third of the Senate's seats are on the ballot next November. And nearly 9 in 10 adults disapprove of the way lawmakers are handling their jobs. [AP]
Bloomberg: Obama gets little credit for economy - Mike Dorning: "President Barack Obama gets little credit from the public for economic progress under his watch as his job approval has plummeted to a new low of 42 percent in the Bloomberg National Poll. Americans by 50 percent to 45 percent say improvements in the unemployment rate would have happened regardless of anything the Obama administration has done. Sixty percent say he isn't responsible for a turnaround in housing and 64 percent don't give him credit for surging stock prices, according to the telephone poll of 1,004 Americans taken Dec. 6-9." [Bloomberg]
Reason-Rupe: Americans dubious of government's abilities - Emily Ekins: "The latest Reason-Rupe national telephone poll finds the Affordable Care Act's troubled launch has made 47 percent of Americans less confident in government's ability to solve problems. Forty-one percent say the troubles have made no difference and 11 percent say the health care law's launch has given them more confidence in the government….A majority of Americans, 52 percent, say they disagree with President Obama's views about the proper size and power of government, while 38 percent agree with the president." [Reason]
Gallup: Democrats retain favorability edge - Andrew Dugan: "Americans continue to see the Democratic and Republican parties unfavorably, as a year marred by high-profile policy failures for both parties comes to a close. The Republican Party's favorability has improved slightly to 32% from an all-time low of 28% in October during the government shutdown, while 61% now view the GOP unfavorably. The Democratic Party -- on the defensive recently for the flawed rollout of the healthcare website -- maintains a favorable rating of 42%. But a majority of Americans, 53%, now see the party unfavorably, up from 49% in October." [Gallup]
NBC/WSJ: Obama at worst point in presidency - Mark Murray: "A new NBC News/Wall Street Journal poll finds that more Americans disapprove of the president's job performance than ever before; half say they're either disappointed or dissatisfied with his presidency and 54 percent believe he's facing a long-term setback. Perhaps more significantly, Obama has seen a drop in key presidential attributes. Just 28 percent give the president high grades for being able to achieve his goals (down 16 points from January); only 37 percent give him high marks for being honest and straightforward (down 5 points from June); and 44 percent give him high marks for being able to handle a crisis (down another 5 points since June)....[F]or the first time in the poll, a majority now views the health law as a bad idea instead of a good one….While respondents might be down on President Obama and his health care law, many of them are downright disgusted at a Congress labeled the least productive in modern history." [NBC]
NYT/CBS: Obama rebounds - Sheryl Gay Stolberg and Allison Kopicki: "President Obama's approval ratings, which hit his all-time low last month, have returned to where they were before the rollout of the health care law's enrollment process, but Americans still lack confidence in the White House's management of the Affordable Care Act, according to the latest New York Times/CBS News poll. The public's opinion of the law itself has improved after repairs to the enrollment website. According to the poll, 42 percent of Americans now approve of Mr. Obama's overall performance, and 50 percent disapprove. That is not exactly good news for the president, but is better than his numbers in mid-November, after he admitted he had fumbled the rollout of the health care law's website. Then, just 37 percent approved and 57 percent disapproved in a CBS News poll. The findings suggest that for Mr. Obama, the political fallout from the website's start-up might be over." [NYT]
Reactions from Twitter:
-AP polling director Jennifer Agiesta: "Obviously, poll Christmas came early." [@JennAgiesta]
-Political scientist John Sides: "Obama up in some polls! Down in others! Gosh, if only there was some way to combine multiple polls into a more reliable trend. [@MonkeyCageBlog]
-Political scientist Jonathan Bernstein "'C'mon, media, use what we know about polling: Aggregate, and stop assuming causal effects." [@JBPlainblog]
-Pollster Mark Mellman (D): "Hope Pew poll is right, fear Q poll might be. Truth likely somewhere in between." [@MarkMellman]
-Pollster Nick Gourevitch (D): "Tired of same old metrics on DC's dysfunction? NBC/WSJ poll has a new one! 51% say this Congress 'one of worst ever.'" [@nickgourevitch]
HUFFPOLLSTER VIA EMAIL! - You can receive this daily update every weekday via email! Just enter your email address in the box on the upper right corner of this page, and click "sign up." That's all there is to it (and you can unsubscribe anytime).
WEDNESDAY'S 'OUTLIERS' - Links to more news at the intersection of polling, politics and political data:
-Congress, once again, hits an all-time approval low. [Gallup]
-59 percent of frequent flyers oppose allowing cell phones to be used for voice calls. [AP]
-92 percent of Catholics have a favorable view of Pope Francis. [WaPost]
-Americans name jobs, parents and family as the factors most likely to promote social mobility. [Brookings]
-A majority of Americans say they support the Employment Non-Discrimination Act. [National Journal]
-Millennial women see roadblocks to their success in the workplace despite gains in education and pay equity. [Pew Research]
-Americans value public libraries. [Pew Research]
-David Hill (R) ponders changes pollsters are making to adapt to technological and social change. [The Hill]
-Mark Mellman (D) remembers Joe Napolitan. [The Hill]